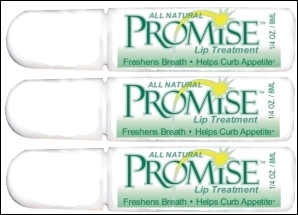 Garden City, ID (PRWEB) March 31, 2006
A new, easy-to-use method of weight management has just been released. A special blend of essential oils and botanical extracts helps curb the desire for sweets and large meals. It's all natural. It is called Promise.
Medical Doctors and their patients have tested the effectiveness with positive results. It is reported that it can be used often through the day. It also is a treatment for lips and freshens breath.
The suggested Retail Price is $3.95. One container lasts over one month.
Omega Tech Labs claims that their formula has a synergistic effect. That the function of each ingredient is enhanced by the presence of the others. Thus, the claimed high effectiveness of this novel approach to weight management.
Promise is not sweetened. It is not a candy or confection. It is a real, functional product.
The suggested time for results varies with each person, but the average time is within one week. The company also says it is safe to use with any diet program and with pregnant women.
Omega is quick establish that Promise is not positioned as a diet product, but rather a simple way to help curb the desire for sweets and large meals.
Promise is trademarked and patent-pending.
Omega Tech Labs has another novel product just for smokers. A smoker's cessation lip treatment called Stop. It helps stop smoking. It is packaged and priced the same way as Promise.
Omega is actively seeking brokers and distributors in the natural store category, drug store category and convenience store category.
Omega is a developer of private label, novel products for the personal care, medical and law enforcement markets. Promise, as well as several other products are available for private labeling.
For more information please contact Doug, Glenn or Elizabeth.
Omega Tech Labs Boise, Idaho 83714
The companies web site is http://www.omegatechlabs.com
1-208-375-4949
Retail sales have been assigned to Great Scott. You may purchase it at http://www.greatscottskincream.com .
###