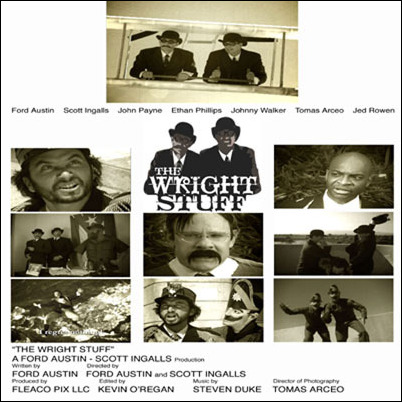 , and after 6 months of defending your primetime spot you start to look forward to being cancelled so you can move on and think about creating your next show
North Hollywood, CA (PRWEB) March 31, 2006
This April, the 2006 Newport Beach Film Festival will be screening Episode 1 of Ford Austin, Scott Ingalls, & Tomas Arceo's independent web series "The Wright Stuff", a hilariously ingenious comedy that follows the Wright Brothers as they take assignments from President Teddy Roosevelt and use their "flying machine" to fight evil throughout the world.
"The main thing that makes this series so funny is the fact that the Wright Brothers actually only flew their plane for roughly a minute at a time and we have them both flying around the world on madcap adventures", claim show creators Ford Austin & Scott Ingalls.
The 2005 Newport Beach Film Festival is where Academy Award winner for Best Picture "CRASH" had it's US premiere in 2005. Now, the 3 aspiring television producers Austin, Ingalls, & Arceo exclaim, "We feel that if it's good enough for Lion's Gate then it's good enough for us to premiere there, too!" Well, not entirely your "premiere", fellas. "The Wright Stuff" has been a critically acclaimed web series on the now infamous Channel 101 since August 2005. Channel 101, an inherently comedic Internet-TV network, touts such stars as: Jack Black, Sarah Silverman, TV's Donny Most (Happy Days), Ethan Phillips (Star Trek: Voyager), and SNL's Andy Samberg who's digital short Lazy Sunday can now be seen on every ipod on the planet. Each month Channel 101 selects it's content democratically as hundreds of excited fans gather at Cinespace in Hollywood, California to watch the latest "network" programming and vote on what shows should be "primetime" and which should be "cancelled". "You make a 5-minute "pilot" episode, it gets into "primetime", and after 6 months of defending your primetime spot you start to look forward to being cancelled so you can move on and think about creating your next show", Austin says.
And for Austin/Ingalls/Arceo, Channel 101 and The Newport Beach Film Festival are just the beginning. Every episode of The "Wright Stuff" series, with more aeronautic slapstick, bowler hats, and 1910 period-film charisma than you can cram into the overhead bin, has been selected to screen in competition at the 2006 Bare Bones Film Festival in Muskogee, Oklahoma this April. "All the episodes have also been nominated for the Best Comedy Short Award and/or Awards…I guess we are competing against ourselves at that one," Austin says with a wry smile. Muskogee's Bare Bones Film Festival, currently in its 7th year, is one of the last truly independent film festivals in the states. Owned and operated by Oscar Dean Ray and Shiron Butterfly, the Bare Bones Film Festival is a hugely successful anomaly of the independent world with virtually no major corporate funding.
Even though they are successful on the festival circuit, corporate funding is exactly what Austin, Ingalls, & Arceo are aiming for, according to industry insiders. With Austins' background in acting & producing, Ingalls' in directing, and Arceos' in photography, the trio strike the perfect balance for success. In January 2006, the talented filmmakers formed their own production company called Fleaco Pix LLC so they could develop their TV show ideas for major networks in Hollywood. Austin claims, "Studios and networks such as NBC, DISNEY and FOX have created mentor-type programs to develop new television shows; and after Scott's involvement with 'Drew Carey's Green Screen Show' and Paramount television producing one of my great courtroom show ideas I sold to them this past year, we decided to get in line to develop our other super-fresh ideas". Foremost in their plans for moving forward is the commitment to find development executives at NBC, ABC, CBS, FOX, and DISNEY, to nurture their talents and aspirations as show runners so they can create the programming for future generations.
"Our creativity is off the charts, and now there are more outlets in Hollywood and around the country where an actor, writer or filmmaker can develop their work without taking on a huge financial burden in order to reach an audience. We're looking to get involved in programs such as PSNBC and Fox Searchlab's TV division to provide the infrastructure that we need as artists in order to produce our works. We are the exactly what that all creative executives in both New York and in Los Angeles are looking for."
Fleaco Pix LLC, founded in January 2006, is based in Los Angeles, California. Owners: Ford Austin, Scott Ingalls, and Tomas Arceo.
For more information: FleacoPixllc -at- mac.com.
# # #