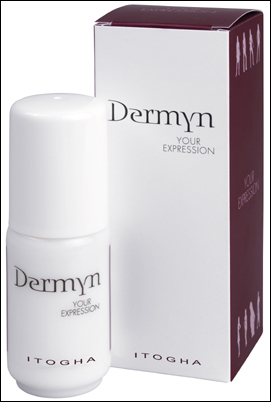 There are many products on the market today claiming to relax wrinkles, fade age spots, reduce blemishes, and the like. Dermyn is the only product we know of that tackles a fundamental of aging – sagging skin, by making facial muscles and cells contract, thereby rejuvenating the skin to look and feel more youthful
San Jose, CA (PRWEB) April 3, 2006
Itogha America announced today the offering of Swedish-developed product, Dermyn Active Serum, in the USA on its website and on eBay. Dermyn Active Serum is a unique product targeting sagging skin and offering what many have called a "face-lift without surgery".
Dermyn Active Serum contains Tricutan ®, a formula developed by Swedish dermatologist Dr. Beatrice Sommerfeld together with Swedish firm Adderma. Clinical studies have shown Dermyn Active Serum with Tricutan to be effective at confronting the effects of aging on mature skin by increasing muscle tone, strengthening facial skin fiber structure and increasing cellular contraction.
Dr. Martha Kallio, Swedish dermatologist with Handens Hospital states, "In my 25 years as a dermatologist, I've never tested a product that's been more effective for loose skin. Dermyn is a totally unique product, really the first to affect the facial muscles. Dermyn has a very good effect for women who've reached the age of 35."
"We are excited to make this product available to women and men in America", said Michael Sanchez-Parodi of Itogha America. "There are many products on the market today claiming to relax wrinkles, fade age spots, reduce blemishes, and the like. Dermyn is the only product we know of that tackles a fundamental of aging – sagging skin, by making facial muscles and cells contract, thereby rejuvenating the skin to look and feel more youthful," added Mr. Sanchez-Parodi.
Itogha America is seeking additional distributors and retailers for the Dermyn line of products. Interested parties should contact Mr. Sanchez-Parodi at the company's headquarters. Further information may be obtained by visiting the Itogha America website at: http://www.itogha-america.com.
About Itogha America - Itogha America is part of the MSP Technology group of companies, based in San Jose, California.
# # #