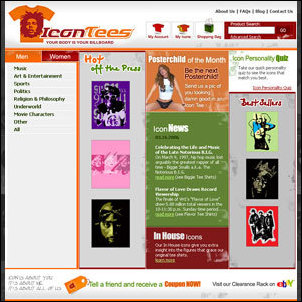 We are very excited about every aspect of this personality quiz. It differentiates our line of custom T-shirts featuring world idols, attracts more visitors to our website, and provides incredible marketing intelligence that you just can't get from other marketing channels
Jersey City, NJ (PRWEB) April 4, 2006
T-shirt manufacturer Icon Tees has integrated a personality quiz into their ecommerce website to automatically match visitors with products. The quiz results are over 90% accurate and allow Icon Tees to gain a deeper understanding of how their audience thinks and more importantly, how they buy.
Cofounders Anthony Palladino and Michael Milia came up with the idea of using a personality quiz in 2005. Their goal was to sell more effectively by understanding the buying patterns of each personality for their specific product line and demographic.
As a side benefit, the personality quiz is expected to attract more buyers to the Icon Tees website at http://www.icontees.com. According to Yahoo! Search Marketing's keyword selector tool, well over 120,000 online searches were performed in February 2006 for the terms "Personality Test" and "Personality Quiz."
Visitors that take the two minute personality quiz are not obligated to buy, but they must register on the Icon Tees website. Registration is free and allows users to sign into their account anytime to view in-depth reports. The reports range from ideal learning styles to how people view the user on the job and the user's perfect vacation.
The personality quiz was developed by Thinking Craft, Inc. based on 25 years of scientific research and integrated into the Icon Tees website by their website design firm, Fast Internet Success.
"We are very excited about every aspect of this personality quiz. It differentiates our line of custom T-shirts featuring world idols, attracts more visitors to our website, and provides incredible marketing intelligence that you just can't get from other marketing channels," said Michael Milia.
The Icon Tees website also features an advanced visitor tracking system that tracks both short and long-term visitor activity on the website. Visitor tracking data includes everything from the keywords the visitor used to find the website to which items the visitor has ever added to their shopping cart and much more. Combined with the personality quiz results, Icon Tees is able to intelligently adjust inventory and introduce new T-shirts.
About Icon Tees:
Icon Tees is based out of downtown Jersey City, New Jersey. It is the brainchild of two friends, each with a keen entrepreneurial spirit and an insatiable desire to breathe life into one of the oldest and most common garments known to man, the T-Shirt. Their T-Shirts feature original illustrations of popular icons such as Madonna, Bruce Lee, Marilyn Monroe, Arnold Schwarzenegger, Princess Diana, Jesus Christ, Tupac, and many more.
Contact:
Michael Milia
Icon Tees
201-264-6272
# # #