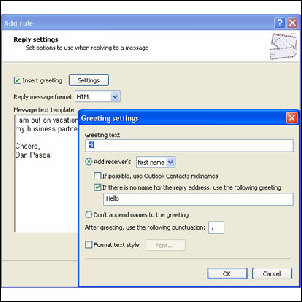 Bucharest, Romania (PRWEB) April 4, 2006
DS DEVELOPMENT has released version 1.5 of their email automation software, Auto Reply Manager for Outlook, a time-saver Outlook add-in which helps users to automate and personalise Outlook email replies.
Auto Reply Manager for Outlook allows users to quickly define reply rules and filters and to automatically email replies when users are out of office, on vacation or simply when they want to auto-confirm certain incoming emails. Users can choose to send automated replies or to forward received emails to a pre-selected email account.
For those users who deal with multiple email accounts, Auto Reply Manager lets them create reply rules tailored for certain Outlook email accounts. The reply rules can also be defined so they apply only for certain contacts or mail folders where emails are received. Furthermore, users can create rules based on keywords found in the subject or body content of incoming email messages. These rules can be set to be always active or to be enabled only during certain date or time periods specified by the user.
Using Auto Reply Manager, Outlook users can have personalised greetings inserted on each automated email, so these emails will look and feel personal. The email reply can be sent using the plain text or HTML format. For emails sent using the HTML format, Auto Reply Manager lets users to import HTML code or files, creating stylish automated emails.
Auto Reply Manager works as an add-in for Microsoft Outlook and it can be easily accessed from the Outlook Tools menu, so users can configure the auto-reply settings directly from the already familiar Outlook interface. Auto Reply Manager is designed for any version of Microsoft Office Outlook, starting with Microsoft Office Outlook 2000. Auto Reply Manager is packed with a live update tool, allowing users to quickly download and install product updates.
Auto Reply Manager for Outlook is available directly from DS Development SRL. An electronic-only version with complete manual and tutorials costs $39.95 (US). Site licenses are available. Auto Reply Manager for Outlook runs under Windows 95/98/ME/NT 4.0, Windows 2000, 2003 or XP, being supported by Microsoft Office Outlook 2000 or higher. Visit the DS Development home page at http://www.emailaddressmanager.com to download a fully-functional trial copy of Auto Reply Manager for Outlook.
Founded in 1998, DS Development SRL produces email related software for Microsoft Windows.
Press Resources are available on the web, including electronic versions of product literature, screen shots and detailed product information. The direct link is http://www.emailaddressmanager.com/press.html .
Evaluation copy available on request. Please send a request for a license key to and explain that you're in the process of reviewing our product - mention the publication please.
###