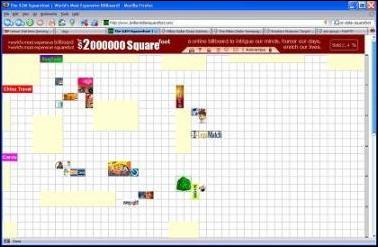 $2 million for 1,000 feet -- that's okay. $2 million for 1 foot -- that's a bragging right.
New York, NY (PRWEB) April 3, 2006 –-
Enterprising traveler Skylark aims to turn a flight tale into two world records -- and a personal fortune -- by selling one square foot of online billboard, segmented into quarter-inch blocks, for $2 million total. When completely sold, the "2 Million Dollar Squarefoot" (http://www.2milliondollarsquarefoot.com) will set new world records as the most expensive billboard and the most expensive square foot.
Instantly understood but instinctively questioned, 2 Million Dollar Squarefoot is a simple yet intriguing headline that will tickle the curiosity of millions. "Rarely does something so impossible on one hand can also be very probable on the other," explains Skylark. "As a whole, it sounds absurd. But as quarter-inch ads, the dynamics changed completely. For merely 10 quarters a day, to put your image, description, and link on a world record billboard -- that's a very low-risk, high-reward proposition."
Skylark believes advertisers will join in to make http://www.2milliondollarsquarefoot.com a click magnet. In three weeks of soft launch, it has already attracted more than two dozen advertisers, snapping up some 50-plus blocks to promote everything from travel services to gift card swaps to ring tone downloads to online gaming. Blocks are free after first year, and the site is set to run to at least 2008.
Asked if price per foot applies online, Skylark insists, "Why not? From Fifth Avenue apartment to Time Square billboard to magazine insert, it's how much, not for what, that counts." Although Web space is typically measured in pixels, the default 96-DPI standard that most displays now use makes pixel-to-inch a non-issue: 24-pixel for quarter-inch, 1152x1152 for the billboard.
The notion of 2 Million Dollar Squarefoot was initially conceived as a joke on a transpacific flight. Seated next to a hotshot property agent, Skylark was at first appalled, then intrigued and, finally, inspired. To put a stop to his bragging of his stellar salesmanship and the $2 million, 1,000-foot-plus condo he sold, Skylark jokingly said, "$2 million for 1,000 feet -- that's okay. $2 million for 1 foot -- that's a bragging right."
But with a Google story and a 12-inch ruler atop a document displayed on his laptop, with one page-down, Skylark suddenly realized he was also looking at a square foot window. A light bulb went off and a solution emerged: 2304 (48x48) blocks, at $2.50 a day, for one year. Having never sold a square foot in his life, a partnership was offered, and was returned with a laugh and a bet from the hotshot: "No way. It can't be done."
Skylark started a quest for the allegedly impossible: selling one square foot of online billboard for $2 million and breaking two world records, simultaneously. For more information visit http://www.2milliondollarsquarefoot.com
Contact:
Skylark
646-201-5353
# # #