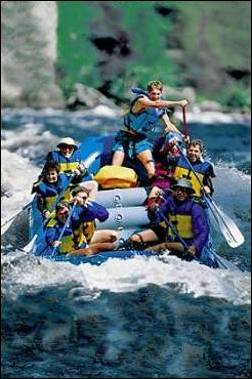 Bethel, ME (PRWEB) April 1, 2006
The unusual amount of rainfall this past autumn and the unseasonably warm winter in Maine are a welcome weather phenomenon for whitewater rafters.
The warmer water with ice-free river banks will enable outfitters to begin trips up to a month earlier than the traditional May First start of Maine's rafting season. Outfitters have trips booked as early as April 15 on the Kennebec River. Staff training trips begin April 1st.
Due to the abundant rainfall last autumn, river engineers were unable to lower the lakes to their normal winter levels. Lakes are at record high levels for the early spring. Unlike many rivers in the Northeast, Maine's Kennebec, Dead and Penobscot Rivers are managed by water releases from hydropower dams and do not depend on natural spring run-off.
Lower than average snowfall this winter will not affect the rivers' water flows.
The Kennebec River releases daily beginning in April at a minimum flow of 4,800 cubic feet per second. Penobscot River trips will begin in May with daily flows of 1800-3000 cfs. Dead River high water releases of 3,500-7000 cfs are scheduled for May 6, 13 & 28, and June 3, 10 & 18.
Rafters must be a minimum age of 10 to raft the upper gorge of the Kennebec River and 15 for the upper sections of the Penobscot and entire length of the Dead River.
Members of Raft Maine, a trade association of ten professional, licensed whitewater rafting outfitters, provide outdoor adventure trips on Maine's wilderness rivers from April through early October. The outfitters offer outdoor adventures including lake and whitewater kayaking, inflatable kayaking, canoeing, fishing, hiking, rock climbing, moose, wildlife and bird watching tours. Information on the rivers, outfitters and trip planning is available on line at http://www.raftmaine.com or 1-800-723-8633.
# # #