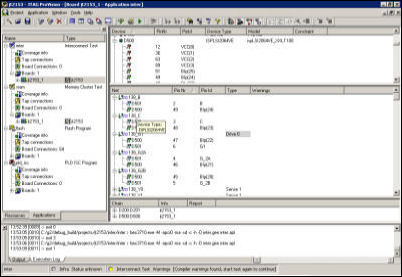 With the growing demand for complex circuit board test and in-system programming, electronics developers and manufacturers are seeking ways to further accelerate application development without compromising the quality of their test coverage and in-system programming results
Stevensville, MD (PRWEB) April 4, 2006 –-
JTAG Technologies today announced the introduction of JTAG ProVision, a tool that accelerates and simplifies the development of boundary-scan applications based on the IEEE 1149.x standards. With JTAG ProVision, engineers will be able to reach their test coverage and in-system programming objectives in less time, even for the most complex boards and systems. JTAG Technologies raises the bar on productivity and ease-of-use with JTAG ProVision, while maintaining its industry-proven quality.
Engineers with minimal boundary-scan knowledge or experience will derive immediate benefit from JTAG ProVision's application wizard. This straightforward guide leads users through the sequence of steps to prepare test and in-system programming applications. Graphical tools simplify the management of design data for all boundary-scan applications without compromising design accessibility or test coverage.
JTAG ProVision rapidly creates a full set of tests and in-system programming solutions, automatically analyzing the boundary-scan and non-boundary-scan portions of a design. JTAG Technologies' unique approach to device modeling provides the information needed to properly control non-scan clusters for optimum test coverage, with manual override capability for skilled users. JTAG ProVision's ease-of-use extends beyond single-board designs. The tool can easily handle all levels of target complexity from single boards with one, or multiple, Test Access Ports (TAPs) through complex, multi-board configurations.
"With the growing demand for complex circuit board test and in-system programming, electronics developers and manufacturers are seeking ways to further accelerate application development without compromising the quality of their test coverage and in-system programming results," said Ray Dellecker, US marketing manager of JTAG Technologies. "JTAG ProVision includes an intuitive guide, allowing users to quickly and easily prepare and validate their boundary-scan applications while maintaining the utmost in coverage and quality. The benefits of our production tools are immediately available with JTAG ProVision."
Pricing and Availability
JTAG ProVision will be available for shipment in mid-April. JTAG Technologies offers several licensing options. Pricing for the test development configuration of JTAG ProVision starts at $11,500 for a node-locked, Microsoft Windows-based license. Boundary-scan applications developed with JTAG ProVision are fully compatible with JTAG Technologies' extensive offering of production tools including its stand-alone boundary-scan systems and the industry's most complete offering of ICT, flying probe, and functional test integrations.
About JTAG Technologies
JTAG Technologies is a market leader and technology innovator of boundary-scan software and hardware products and services. Its customers include world leaders in electronics design and manufacturing like Ericsson, Flextronics, Honeywell, Medtronic, Motorola, Nokia, Raytheon, Rockwell-Collins, Samsung, and Sony. Its innovative boundary-scan (IEEE Standard 1149.1) products provide test preparation, test execution, test result analysis and in-system programming applications. With an installed base of over 4,000 systems worldwide, JTAG Technologies serves the communications, medical electronics, avionics, defense, automotive, and consumer industries. JTAG Technologies is headquartered in Eindhoven, The Netherlands with offices throughout North America, Europe and Asia. For more information visit: http://www.jtag.com.
JTAG Technologies is a registered trademark and JTAG ProVision is a trademark of JTAG Technologies, Inc. All other brand names or product names mentioned are trademarks or registered trademarks of their respective holder.
For more information, please contact:
Ray Dellecker
JTAG Technologies, Inc.
US Marketing
425-898-8968
Anne-Marie Vrolijk-van den Hurk
JTAG Technologies, Inc.
Europe Marketing
011-31-402950870
# # #