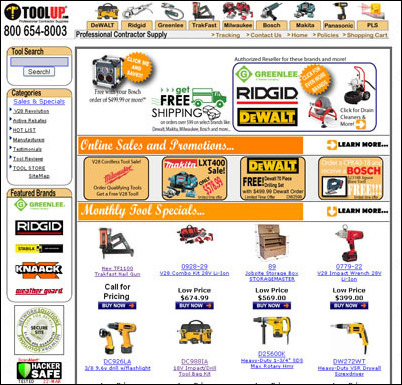 Las Vegas, NV (PRWEB) April 3, 2006 -—
After a five year housing boom, the Commerce Department has released reports showing the market taking some slow steps back. Single-family home sales have declined four times since June of 2005 and a record was set in January for unsold new homes. So, with the market working against the professional contractor, cost-effective job sites are now more important than ever.
Toolup.com is a commercial contractor supply that enables both the professional and the casual user to achieve greater efficiency for the job they are working on. With over 20 years in the industry, the staff of Toolup.com has also noticed the affect of the decline on their customers shopping for commercial construction supplies. Vice President Kevin Hill explains, "Our customers, who can be directly affected, come to us in order to consolidate their purchasing. Both to save money, and to receive product on time."
Hill offers more reasons why Toolup.com can help the contractor in need of power tools, "We stock what we sell, and we understand the requirements of our customers business. They need to budget and schedule, and we can do that. We're committed to delivering on our promises, and we have over 15 million in inventory that says we're good at what we do. When you have 15 guys, paid journeyman wages, and they are all waiting around for a new set of drill bits, they don't stop being paid just because the parts are not there. That is where Toolup can help. We've had commercial construction supplies like generators, and drill bits, and many other items delivered on the job site the very next morning."
Although professional contractors may be feeling the strain of the commercial housing demand, there are many other areas where they can take their power tools. When asked why the housing boom is declining, Hill points out, "The housing industry is just one facet of the construction industry, and if you look carefully, you'll see that there are many areas that require, no demand, building. The Gulf States are one example of where builders can go to fill in their down time. We ship power tools to quite a few customers in these locations, and speed is critical."
The vice president of Toolup.com offers advice for the contractor looking for commercial construction supplies during this taxing time, "Looking for savings in pricing can be a mistake if used as the singular criteria. Often times, the time spent saving pennies can cost you dollars. At Toolup, we're industry experts, and we work with our clients to make sure they are getting the service, value and speed of delivery that they need in order to stay competitive."
To shop with industry experts for professional contracting supplies, please visit Toolup.com.
About Toolup.com:
Director and CEO, Keith Mantis, founded Toolup.com in 1999. He is also the President of Fasteners, Inc. Another original founding member is Kevin Hill who serves as Vice President and Webmaster. Both executives also contribute personal tool reviews to Toolup.com.
# # #