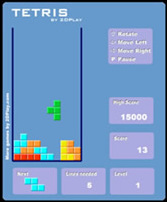 Oak Brook, IL (PRWEB) April 2, 2006
According to PlayedOnline.com, a free online games site, vintage arcade games like Tetris are experiencing an Internet renaissance.
While advanced gaming systems continue to gain popularity, many people are turning to the web to satisfy their nostalgia for a simpler time when graphics were two-dimensional and 16 colors were more than enough.
The site's top ten list reflects a growing interest in vintage games, including 1980s staples like Pacman and Galactic Warrior. For up-to-the minute statistics regarding the most popular online games, visit PlayedOnline.com.
"At a first glance, it may seem counter-intuitive that these arcade classics are performing so well. Gaming companies today employ large development teams to produce realistic graphics and breathtaking cinematic - characteristics that Pacman, for instance, decidedly does not have," said Noam Makavy, Webmaster of PlayedOnline.com. "But what we have found is their very simplicity is actually what makes them so compelling."
He added, "Gamers appreciate the creativity that went into these Classic games, and PlayedOnline.com is pleased to be a part of their revival."
PlayedOnline.com offers a wide selection of free computer games, from arcade classics to the latest sports and strategy games. PlayedOnline is a pop-up free website and does not require registration.
###