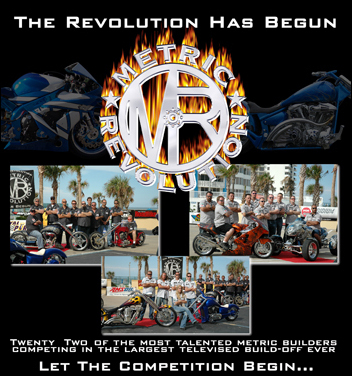 interest in this revolutionary industry. We are so excited to bring recognition to the homes of these incredible master builders.
Boca Raton, FL (PRWEB) April 7, 2006
Beginning July 2006, the all-new "Metric Revolution" television series, http://www.metrictv.com, will launch a 118-day promotional bus tour across the highways of the USA ending at the Las Vegas Bikefest September 14-17th. With cameras rolling, the "Metric Revolution 2006 US TV Tour" Bus will make over 165 "whistle stops"; featuring the hometowns of all 22 contestants chosen to compete in the first ever televised metric motorcycle build off. Beginning at Biketoberfest 2005, each contestant received a stock metric motorcycle along with ancillary components for customization. The 180-day competition period is winding down, and the 18 professionals and 4 rookies struggle to meet their dead lines. The drama explodes as producers embrace the national audience to join them on this progress-report tour.
Link to MR Trailer:
http://www.metrictv.net/Videos/MR-0005%20for%20web.wmv
"Inviting the community to participate in our bus tour highlights the true "grass-root" interest in this revolutionary industry. We are so excited to bring recognition to the homes of these incredible master builders." states Executive Producer Danielle Spandau "I hope the rookies are able to step up to the challenge and reach the bar set by the pros. It's going to be a real life drama of personal expression!"
Collaborating with Yamaha, Kawasaki, Suzuki, Triumph, & Honda dealerships, Hooters of America http://www.hooters.com, prominent national restaurants, nightclubs, and major motorcycle associations, the "MR US TV Tour" incorporates local, regional, and national events for public participation. Parent Corporation "M3Pro" has strategically designed this venue to provide motorcycle enthusiasts a sneak peek into the "metric" motorcycle industry. Along the way, M3Pro will be taping the tour for B roll footage to be included in the TV series, and for a "MR TV US Tour" DVD.
Hometown stops include Pine Knot, KY; Essex Junction, VT; Carlsbad, CA; Plantation, FL; Feura Bush, NY; Mocksville, NC; Bedford, TX and many more. With promotional events scheduled in, but not limited to, Miami, New York City, Philadelphia, Nashville, Dallas, and Los Angeles, the summer tour will culminate in September at fabulous Las Vegas, Nevada. The Metric Revolution TV crew will be on hand to tape the much-anticipated "unveiling" episode of the contestant builders' creations. Visit http://www.metrictv.com for tour schedule and events.
The "Metric Revolution" 2006 TV Tour has partnered with Las Vegas Bikefest, http://www.lasvegasbikefest.com, and the Hooters Hotel & Casino http://www.hooterscasinohotel.com to display over 2 million dollars of custom metric motorcycles. The custom builds will be displayed on Fremont Street on Friday and Saturday September 14 & 15. The 40,000 + attendee's and the general public will have an opportunity to meet the celebrity builders and judge the exotic builds over a three day period. Every attending participant will be afforded the chance to cast their ballot towards the final voting; resulting in "hundreds of thousands" of dollars in grand prizes. A VIP / Celebrity dinner is slated for Saturday night September 16th at Hooters Casino. Limited sponsorship and advertising opportunities, including TV Tour Bus Signage, Bikefest Vending, and inclusion of National Radio, TV and Print Campaign, is currently available. Sponsors will also receive television exposure through the "Metric Revolution" TV series, "Metric Revolution US Tour" DVD, and regional media coverage.
M3Pro recently introduced a new format to provide a resource of "metric" motorcycle industry information. Visit http://www.metrictv.com for industry news, contestant information, forums, events, and behind the scene information about the "Metric Revolution" television series and tour. Current traffic exceeds 1.5 million hits per month, with "Metric Times" subscriptions in the thousands. Merchandise and apparel from the TV series is available from the online store.
Contacts for more information:
US Tour: mark@ metrictv.com
Website: scott@ metrictv.com
Sponsorship: ken@ metrictv.com
M3Pro: info@ m3pi.com
# # #