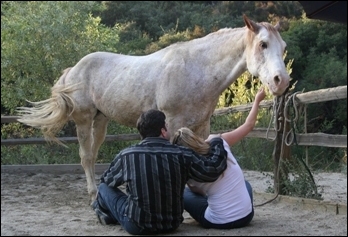 Families are usually so blown away by what takes place during one session that they will tell their friends right away. Their profound recovery is our best reward and it is the cornerstone of our reputation.
(PRWEB) April 4, 2006
All Ways Recovery, a new addiction treatment and drug rehabilitation program, embraces Equine Assisted Psychotherapy (horses) to get its patients back on the road to recovery and healthy relationships. Even though the corporation is relatively new, and has just celebrated its first year of service, Frank Hochuli, Marie-Dorée Lambert and Michael Topp combine more than sixty years of experience in addiction related treatment.
"Our success comes from the wide variety of cutting edge solutions we have to shape the best program for our clients," said co-founder and CEO Marie-Dorée Lambert. "Because solutions are as unique as the individual is, we arrange therapies specifically geared for each client."
She and other staff members address such issues as addiction, ADHD, depression, grief, anxiety, co-dependency, anger management, eating disorders, and many forms of self-abuse – as well as addiction treatment and drug rehabilitation. They also offer corporate coaching and parenting workshops.
"Addiction treatment is about the whole family. One's drinking, shopping, gambling, eating disorder, etc, doesn't just affect this individual, it affects the whole family. Horses are so healing around families," Lambert added. "Families are usually so blown away by what takes place during one session that they will tell their friends right away. Their profound recovery is our best reward and it is the cornerstone of our reputation."
With training and experience in Europe and America, All Ways Recovery's experienced therapists are not only international in outlook, but also cross-cultural in their influences, she added. They utilize a variety of proven recovery techniques, including family of origin workshops, one-on-one sessions, group therapy, guided meditations, yoga, homeopathy and acupuncture. They are most invested in Equine Assisted Psychotherapy, an exciting approach that has proven its benefits for almost two decades, and have been trained by a school of Equine Assisted Psychotherapy called EAGALA.
"In almost two decades Equine Assisted Psychotherapy has proven itself to be tremendously effective," said Frank Hochuli, All Ways Recovery's co-founder and Equine Assisted Psychotherapy Program Director.
Michael Topp, MFT, All Ways Recovery's Clinical Director, a specialist in addiction treatment and drug rehabilitation that has worked in both fields for over thirty years agrees: "I feel that there is a profound need for an outpatient, aftercare recovery program offering a variety of therapeutic and spiritual solutions incorporating this powerful method involving horses."
All Ways Recovery's Equine Assisted Psychotherapy program takes place in two locations. One sits way back in the still untouched mountain scenery of Malibu with a 180 degree view all the way to the ocean. Its teepees, sweat lodge and horse coral evokes memories of a more tranquil way of life that still exists in this area. The other is nestled in a sheltered property graced by a stream in Topanga Canyon. Both settings offer a unique private, concealed, safe and peaceful environment. For the safety and confidentiality of clients, they do not publish the addresses of either facility.
"Psychodrama allows us to use action to heal the past, clarify the present and visualize the future. I'm excited to supervise the addition of this life-changing modality at All Ways Recovery. It's a natural compliment to the Equine-Assisted Psychotherapy," said Jean M. Campbell, MSW, Supervisor of Psychodrama Services.
About All Ways Recovery:
Co-founded by Frank Hochuli and Marie-Dorée Lambert in April 2005, All Ways Recovery is an outpatient and after care program believing that each individual is completely unique. It specializes in addiction treatment, family counseling and drug rehabilitation. As the two co-founders were raised in Europeans boarding schools, they are fluent in French, Spanish, German and English. All Ways Recovery offers Equine Assisted Psychotherapy, counseling, psychodrama, corporate coaching, team building and various workshops addressing addiction treatment, ADHD, eating disorders, grief, depression, etc., serving an all ages population. The organization, based in California, operates out of a sheltered mountain ranch in Malibu, a secluded property in Topanga Canyon and a private practice in Beverly Hills. A few international workshops are also planned for the fall. One of them will be in India.
Press contact:
Marie-Dorée Lambert
CEO
(323) 528.7107
http://www.allwaysrecovery.com
###