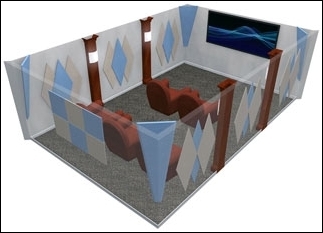 Richmond, VA (PRWEB) April 5, 2006
This new product line includes thirteen acoustical wall panel designs as well as three corner bass trap designs available in a total of 239 different designer fabric choices.
The Commonwealth Collection answers your acoustical and aesthetic needs with their strong sound absorbing performance, durability and elegant appearance. These wall panels are used for sound reduction and reverberation control.
The hottest trend in the home building industry is the addition of a dedicated theater room within a home. The Commonwealth Collection will allow individuals to personalize their home theaters or media rooms by adding designer panels to recreate the look and feel of a true movie theater experience.
The architectural design and wide variety of colors of these acoustical wall panels also makes them perfect choice for offices, conference rooms, hotels, recording studios, universities, houses of worship, teleconferencing and videoconferencing rooms, multi-purpose rooms, and auditoriums.
Acoustical Solutions Inc. offers soundproofing and noise control products for every environment of your life, including acoustical fabrics, sound barriers, sound diffusers, acoustical wall panels and hanging baffles, industrial and commercial noise control products. For more information on this new product line please call us at 1-800-782-5742 or visit us at http://www.acousticalsolutions.com/products/panels/commonwealth.asp.
###