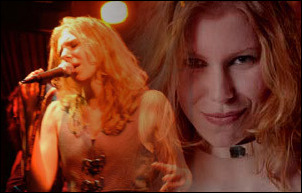 New York, NY (PRWEB) April 4, 2006
City Canyons Records announced today the release of Jen Elliott's new EP, "this damn song, " a six-song jewel in which Manhattan based Jen Elliott and her band Bluestruck deliver a wicked mixture of pop, blues and straight up rock that is nothing but pure emotion.
Jen Elliott has been hailed as "a 21st century siren" and her energy shines from inside each and every song...vivid, honest and seductive. Raised on traditional gospel in Jacksonville, Florida, Jen still writes and sings straight from her soul. All this is wonderfully apparent in "this damn song" now available exclusively on CD Baby and at the City Canyons Records Online Store. The EP is a prequel to her eagerly awaited sophomore album, 8 DAYS DOWN which is slated for release in Fall 2006.
The EP Release and 8 DAYS DOWN follow Jen's 2003 debut album, THE SECRET'S OUT. Her debut album charted on college and independent radio nationwide and and led to rave reviews and features in Keyboard Magazine, Entertainment Today, The Sun Herald and Inside Connection.
Jen regularly plays live throughout the mid-Atlantic states and the Northeast and on April 25--beginning with a EP release party at Manhattan's Red Lion-- Jen and Bluestruck will begin a tour throughout New York and New England in support of "this damn song". Stops along the way include such fine venues as The Bayou Cafe in Albany, NY on April 27 (with talented labelmates The Velmas), Mac's Bad Art Bar in Syracuse NY on April 28 (with The Velmas), the Red Door in Watertown, CT on April 29 (with the Velmas and terrific roots-rocker Carrie Ashton) and Molly Darcy's in Danbury CT (with indie music superstar Lucinda). Other dates will be announced shortly.
The April/May tour will be supported by a radio program targeting top independent and college radio stations throughout North America. Radio promotion will be handled by veteran radio promoter, The Planetary Group, based In Boston, MA.
For press kits or to arrange interviews with Jen, please contact Katherine Brodsky of Random Minds PR . For booking information, please contact Elaine Bower at Bower Booking.
"this damn song" is currently available online only at CD Baby (http://www.cdbaby.com/cd/dreamspinner2),and at the City Canyons Records online record store (http://www.citycanyons.com/jenElliott/index.html) and will soon be available at Amazon.com.
About City Canyons Records
City Canyons Records is a Manhattan based independent label featuring an international roster of artists. In addition to Jen Elliott, other artists on the Manhattan based City Canyons roster are New York artists, Sara Wendt and The Velmas, The Alrights from Minnesota, UK artists David Steele and ANEMO and the hard rocking Valerian from Finland. Genres range from hard rock, to pop, to blues, to hip-hop to alternative rock.
###