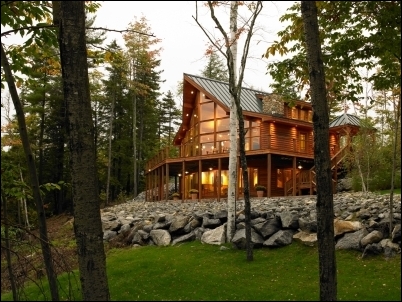 What You Get for the Money
Seattle, WA (PRWEB) April 4, 2006
Six homes. Six cities. One price tag. HGTV's "What You Get for the Money" will be airing the Wadensten family home in Newry, ME on April 5th. The HGTV program features home comparisons valued at $1.5 million in various markets throughout the United States. The Wadensten home is no ordinary home; it's a Lindal Cedar Home.
HGTV will be featuring the Wadensten home, built on 3.87 acres in Western Maine, with an unobstructed view of Sunday River's eight peaks of skiing heaven. This custom 3,046 square foot, 3 baths, 4 bedroom home was tailored to fit the family's active lifestyle with several areas for storing vacation equipment and outdoor toys such as ATVs and ski gear. The cedar home is equipped with plenty of space for reading, games, or just relaxing with the latest and greatest in home entertainment. A game room with a pool table and arcade turn the lower level of the home into an instant party. The second floor balcony loft has a glass rail allowing views of the ski area.
Lindal Cedar Homes has been providing custom cedar homes like the Wadensten's since 1945, and with more than 50,000 of them built since. Lindal Cedar Homes is now the largest designer and manufacturer of custom post and beam cedar homes in the world. "At Lindal Cedar Homes, the high quality of the construction and increasingly sophisticated designs make for cutting-edge technology," says Sig Benson, Director of Sales & Marketing at Lindal. "Lindal's homes are created not just to be attractive and conventional, but with our technology, they'll be constructed to the uppermost standards within the industry." Lindal is known for custom designs and their signature post and beam homes.
HGTV will be featuring the large state-of-the-art kitchen in the Wadensten home. The kitchen allows family members and guests an area to congregate during family gatherings or just relax on a quiet evening. Lindal's customers, like the Wadensten's, have found plenty of reasons to build a Lindal Cedar Home, including top quality materials, low impact on the surrounding environment, controlled product quality and overall energy efficiency into the design of the home. As energy costs continue to rise, consumers are looking to companies such as Lindal Cedar Homes to assist them in ways to reduce their energy consumption during the building process.
The Wadensten's custom Lindal Cedar Home is a superb example of what customers can design with Lindal. For more information on Lindal Cedar Homes, contact Sig Benson 1.800.426.0536.
###