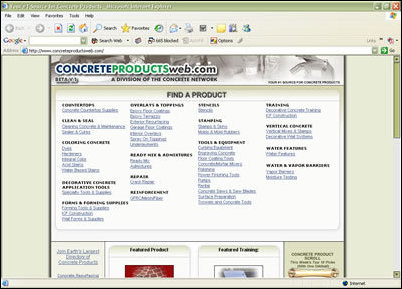 Yucaipa, CA (PRWEB) April 5, 2006
Are you looking for a concrete stamp with a unique stone pattern or the right type of diamond saw blade for cutting decorative score marks? You can locate suppliers for these and many other concrete products with the click of a mouse by visiting ConcreteProductsWeb.com, the newest online service unveiled by The Concrete Network. The nationwide directory of concrete supply houses, manufacturers, and products allows contractors to search listings by city and state to find companies serving their local area.
ConcreteProductsWeb.com currently lists products in 44 categories within 192 metropolitan areas. Product categories include concrete countertop supplies, concrete stains, stamps and skins, concrete finishing tools and equipment, overlays and toppings, and much more.
Visitors to the site simply choose a product category and then select their state and metro area to get listings, along with full contact information, of suppliers serving their vicinity. The site also features a category for companies offering decorative concrete training opportunities, also searchable by city and state.
Each week, ConcreteProductsWeb.com is updated with product specials, featured suppliers, guides to making smart buying decisions, and a list of free resources. It also offers useful links to relevant articles about applications for concrete-related products, such as a countertop installation checklist, selecting proper coatings, tips for getting the most from decorative training, in-depth product reviews, and more.
ConcreteProductsWeb.com is a division of The Concrete Network, a web portal of decorative concrete information and provider of job referrals for decorative concrete contractors.
For more information, visit http://www.ConcreteProductsWeb.com.
# # #