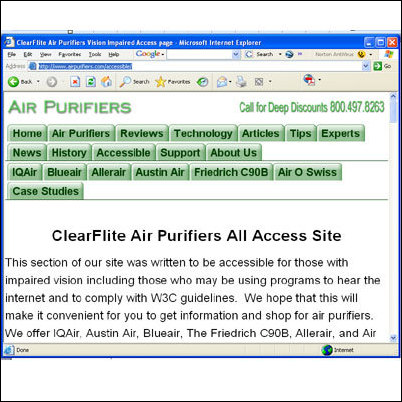 We structured the Accessible section with limited colors, very large type sizes, and intelligent linked text
Elyria, OH (PRWEB) April 11, 2006
ClearFlite Air Purifiers today launched an Accessible section of their web site that is W3C compliant. The Accessible section was designed to facilitate the visually impaired use of the Web. Both those with severe visual impairments who are using software to hear the web and people who are color blind are facilitated.
The Web has become the chosen information delivery system for most firms. While this is cost effective and convenient it becomes extremely problematic for the visually impaired. For instance if graphic navigation buttons are chosen with red and green hues they may not be able to be read by someone with red-green color blindness.
"We spent time adjusting the main site to be usable with a speaking program but felt that we had not achieved the ease of use that we targeted for the profoundly visually impaired" said Ted Zajac, Jr. Vice President of Information Systems for ClearFlite Air Purifiers. "We structured the Accessible section with limited colors, very large type sizes, and intelligent linked text" said Zajac. "Since many of the web speaking programs provide the linked text at the beginning of the page "Click Here" is not a helpful link. Intelligent linked text will read "Click here for IQAir air purifier information".
About ClearFlite Air Purifiers
ClearFlite Air Purifiers is the premier dealer of high-end air purifiers on the Web. Founded in 1990 and on the Web since 1996, ClearFlite has been established as the benchmark for the industry in customer support and quality care. For more information, visit http://www.airpurifiers.com.
# # #