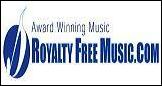 Medford, OR (PRWEB) April 11, 2006
Professionals involved in film, television and media production have become increasingly more reliant on inexpensive royalty free music to enhance their various productions. For the past ten years, the company RoyaltyFreeMusic.com has provided affordable, high quality royalty free music to professionals across every industry that can be used as production music for films and television programs, or as background music and music on hold in business offices or at corporate events and seminars.
RoyaltyFreeMusic.com offers a very large music library with original instrumental music in every style from jazz and New Age to rock and Hip Hop, along with beautiful, fully-orchestrated classical music albums. But the company goes far beyond simply offering clients with music to use in a variety of important projects; the site also has a variety of resources for professionals looking for more information about royalty free music-related topics to help them make educated decisions about incorporating this type of music into films, television programs or every-day business operations, as well as royalty free images and photographs to use in a variety of business functions.
The site's main page displays the company's many additional resources and makes navigating simple for even the busiest individual. Presented on this page are links to many tracks of free music that anyone visiting can download at no cost. RoyaltyFreeMusic.com also has a variety of free music programs for those involved in film and television production, and also for teachers and educational professionals interesting in enhancing music education programs and music copyright education, and providing free music for school projects, sporting events and group presentations. Also on the main site page are links to relevant news stories, daily blogs, reviews and other items that will help inform professionals about the company's albums and new music technologies. Many of these items can be used in conjunction with RSS Feeds so those with particularly busy schedules do not have to make such frequent site visits.
RoyaltyFreeMusic.com is also a comprehensive resource on the Public Domain and Copyright Law. The site offers an entire section devoted to Public Domain music, film, television and images that will help clarify important concepts that will affect everyone that regularly uses music and particularly downloads music from the Internet. This section also contains classical music composer biographies to help teach music lovers about the minds and lives behind some of the masterworks of classical music.
Professionals involved in any industry that use music on a regular business or would like to make it a part of their daily lives will benefit from the many products and services at RoyaltyFreeMusic.com. Those looking for more information can visit the site or send an e-mail to info -at- royaltyfreemusic.com.
# # #