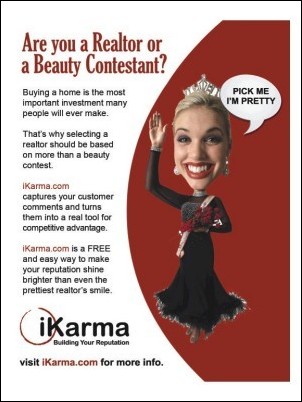 Who's the Prettiest Realtor
JUPITER, FLORIDA (PRWEB) April 5, 2006
iKarma has rolled out its reputation management system for the competitive world of real estate sales and marketing.
Buying a house is the single largest purchase an individual is likely to make. This decision will determine where their children will go to school, the amount of time they will commute to work, what their social lives include and their exposure to crime. The type of home purchased and its location can also affect a buyer's level of financial stress and future wealth.
But how are realtors chosen?
Studies done by the National Association of Realtors indicate that home buyers and sellers prefer to select a realtor based on reputation, but sources of reputation information are practically non existent. All too often, selecting a realtor is reduced to a game of "Eenie-Meenie-Minie-Mo" or "Who's the Prettiest Realtor" using the pictures in the real estate section of the local paper.
Because of this lack of information, experienced and knowledgeable realtors regularly lose valuable business to new agents with better teeth and prettier faces. On the flip side, home buyers and sellers wind up making the most important investment decision of their lives with the counsel of realtors whose inexperience may result in a lifetime of diminished financial resources and lowered quality of life.
With real estate markets cooling and over one million realtors in the USA and more worldwide, and a residential property market that has seen four years of growth, competition for home buyers and sellers has become fierce. These new market conditions will make it even more important for experienced realtors to distinguish themselves from the pack.
Reputation could be the one thing that tips the scale in your favor. iKarma provides an easy, trustworthy third-party vehicle for communicating your competence to your clients and for clients to find the realtor that is right for them. That is the idea that is powering iKarma for Real Estate Professionals. This real estate specific roll out is the first of a planed series of targeted industry campaigns designed to bring the benefits of reputation management to business sectors where verifiable reputations and trust can be easily turned into increased business and greater profits.
We believe iKarma can be used by almost any type of business and is one of the easiest tools that anyone can use to harness the value of a good reputation. The real estate industry is the target of the first of these campaigns which will feature a special marketing section for real estate professionals and advertising designed to target agents online, via industry publications and through real estate blogs.
Our initial ad pokes gentle fun at the serious issues of lookism and ageism, and even occasionally racism and sexism that can creep into realtor marketing and selection when more solid reputation information is unavailable. Home buyers and sellers deserve better information and good realtors deserve their business. iKarma offers a unique solution to this challenge facing the real estate industry.
About iKarma, Inc.
iKarma Inc. is a public company that trades on the Pink Sheets under the symbol IKMA. Based in Jupiter, Florida, iKarma Inc. specializes in providing reputation and customer feedback systems for businesses and professionals. iKarma's mission is to help create prosperity and commerce by bringing greater trust and openness to business transactions. iKarma is a proud member of WOMMA, The Word of Mouth Marketing Association.
iKarma, iKarma.com, eReputation and eReputation.com are all service marks owned by iKarma Inc.
Forward-Looking Statements
This release contains forward-looking statements within the meaning of the Securities Exchange Act of 1934, including the Company's expectations or beliefs concerning, among other things, future operating results and various components thereof. The Company cautions that such matters necessarily involve significant risks and uncertainties that could cause actual operating results and liquidity needs to differ materially from such statements, including, without limitation: (i) increased competition, (ii) changes in the demand for e-commerce and internet based businesses and (iii) changes in general economic conditions. Investors are advised to seek professional advice and conduct a complete due diligence regarding this, or any other company being considered for investment purposes. Investing in securities, particularly in issues priced at less than $1 per share, involves substantial risk and may result in a partial or complete loss of investment capital. Press releases issued by the company should not be interpreted as an offer to sell or a solicitation to buy company stock.
For information about marketing your real estate business to home buyers and sellers visit: http://www.ikarma.com/pro/realestate
For general information about iKarma, visit http://www.iKarma.com.
iKarma Inc.
1203 Town Center Drive
Suite 212
Jupiter, Florida 33458
(561) 427-7285 Phone
(561) 427-7881 Fax
###