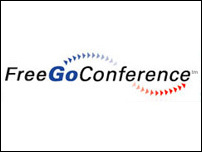 Santa Barbara, CA (PRWEB) April 4, 2006
GoConference announces its new free audio conference service, FreeGoConference, http://www.freegoconference.com. The audio conference service provides free reservation-less 150 person audio conference rooms and call reporting delivered via email immediately following each conference call.
Signing up is simple, and using the system is extremely easy. Once your name and email is entered at http://www.freegoconference.com , a dial-in number and access code is provided for your immediate use. The conference rooms are available to each customer 24/7/365 and with no need to schedule or make reservations. FreeGoConference is the easiest and most convenient free reservation-less conference call service available today.
Each free conferencing account accommodates 150 callers on an unlimited number of 6 hour conference calls. The conferencing service is equipped with all standard features such as: caller count, listen only modes, mute/unmute, tone control, call blocking for security and caller exiting.
All callers access the conference through standard telephone lines, so no Internet, computer or specialized microphones are required, just a normal telephone line. The service accepts callers from any country at any time.
How is this possible?
Because of the greed and dishonesty of Enron and Arthur Anderson that led to each company's collapse a very expensive audio conferencing bridge that had belonged to Arthur Anderson found its way to eBay. GoConference was able to create a feature rich and very reliable teleconferencing business with the highest quality equipment and service at low, low prices.
Visit, http://www.freegoconference.com to sign up for your free account and read more about the history and formation of the company.
# # #