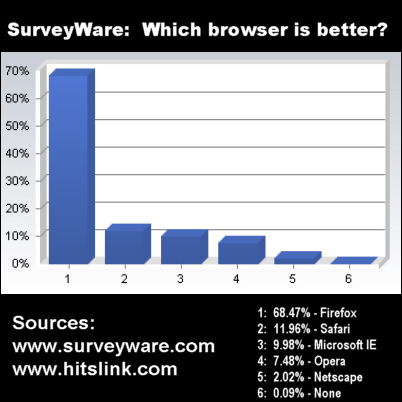 Aliso Viejo, CA (PRWEB) April 5, 2006
Net Applications (http://www.netapplications.com), a provider of web-based applications that measure, monitor and market websites for Small to Medium Enterprises (SME), today announced its monthly website browser usage statistics for March 2006.
March 2006 browser usage market share numbers provided by HitsLink (http://www.hitslink.com) show Firefox breaking through the 10% critical mass threshold. Firefox has breathed life into a market share battle that for many years had none. With a strong feature set, aggressive product development cycle, open source platform, and by offering the browser for free, Firefox has the strategy in place to maintain its growth.
Will Firefox threaten Microsoft Internet Explorer for the market lead? That is still a long way off, and depends on many factors. Firefox has gained 3.34% browser usage market share in the last year, while Microsoft IE has lost 3.89% market share in the same period. If both companies maintain their current trends, it would still take Firefox over 10 years to pass Microsoft. That doesn't account for the new release of IE expected this year, the possibility of the browsing experience moving in mass to portable devices where Opera Browser has the advantage, or any number of changes in the market place to come.
How will Microsoft respond? So far, with new product release delays. But, Microsoft is still in the dominant market leader position, and has the much easier task of defending an entrenched position rather than attacking one.
Net Applications' ongoing survey of the favorite browser in use has shown some dramatic changes as well. We continue to survey our market share site visitor base with the question: "Which browser is better?" The options of Netscape, Safari, Internet Explorer, Firefox and Opera were provided to visitors in a random order for each survey taker. And, the survey says...
Firefox is overwhelmingly considered the best browser available on the market today. Our survey shows an ever increasing percentage of voters favor Firefox, now with over 68% of the voters choosing it.
Apple Safari and Opera Browser both had small gains in usage percentage for March as well. Apple climbed to 3.19% from 3.13% for the previous month. Opera's gain was from 0.53% to 0.54% browser usage market share.
To find out which browsers your visitors are using, login to YOUR HitsLink Account and check the Traffic>>Clients>>Browsers report.
SurveyWare Offers Free Website Polls
Want to know what your website visitors are thinking?
Ask them with SurveyWare!
SurveyWare is a service to perform online surveys. These surveys can be of different types, including embedded and form-based surveys. Easy to implement, simply paste a small script on your site's pages and start viewing results within seconds.
Surveys can provide vital information from your visitor base, and can give them another reason to visit your site
Geolocation services to enable automatic location recording and mapping of survey takers
Advanced reporting capabilities - export to all major print formats plus XML
Drill downs, trend analysis, segmentation of data down to the individual respondent
Restrict repeat respondents by I.P. address and other methods
Scheduled reports - have results delivered to multiple recipients on custom schedules
and much more...
To learn more and start using free website polls on your site, go to http://www.surveyware.com!
# # #