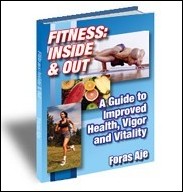 Nothing could be further from the truth
Los Angeles, CA (PRWEB) April 5, 2006
It is a widely accepted fact that Yoga is great for the body. What was once ridiculed as a bizarre fad is today recognized as a basic skill that many people have embraced as a way of life and a first-rate choice for physical and mental fitness.
Having learned the value of this intriguing study, independent health researcher and yoga practitioner, Foras Aje, now offers an e-book titled "Fitness: Inside & Out" which expands on the many benefits, styles and techniques of Yoga, its exclusive use or a wise combination with aerobic and anaerobic exercises for a total body workout. Interested parties can view the e-book at his site http://www.bodyhealthsoul.com
Upon closer inspection, Aje's e-book: "Fitness: Inside & Out" appears to be a program that combines conventional exercises with Yogic principles consisting of focused, intentional breathing, prolonged muscular contractions known as poses or 'asanas' in Yoga practice and a healthy diet all aimed at increasing strength, flexibility, delayed aging and improved health.
Nonetheless, in spite of its immense popularity, some big misconceptions of Yoga still exist, for example, some people believe that it is too hard and takes too long to perform or that it is basically an exercise for women, considering its appearance of being basically a stretching exercise. Consequently, Aje debunks each of these falsehoods and shows that even with the practice of its core warm-up routine alone, Yoga can be easily practiced in about 10 minutes a day or more as desired.
As far as Yoga being just a 'female' exercise: "Nothing could be further from the truth" Aje says, "Just ask Phil Jackson who brought his Yoga philosophy to the Los Angeles Lakers and in June of 2000 led the team to their first championship in 12 years, needless to say, similar methods were used in the coaching of the Chicago Bulls during their successful tenure as NBA champions under Jackson's guidance, so no, Yoga is not just for ladies, it is for everyone."
Through his website and e-book, "Fitness: Inside & Out", Aje aims to assist readers in finding new methods to improving health and overall fitness by making small but necessary lifestyle changes to get lasting results. With Yoga as a tool, he believes the fitness-minded will be able to achieve just that.
About http://www.bodyhealthsoul.com:
Launched in November 2005, Bodyhealthsoul.com is a website providing comprehensive information towards the improvement of overall health.
For additional information on yoga for fitness and healthy living go to:
Interview Contact:
Foras Aje
Phone: 213-842-7159, 310-286-1700 (work)
Website: http://www.bodyhealthsoul.com
Mailing Address:
206, W 6th St (Suite 907)
Los Angeles, CA
90014
# # #