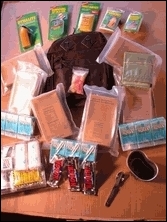 (PRWEB) April 11, 2006 –
According to CampingSurvival.com, now is the time to ensure an emergency go bag is ready and MRE (meals ready to eat) are on hand for Hurricane Season 2006. Even as memories of last year, and the deadly trio of Katrina, Wilma and Rita, remain fresh in many minds, a new crop of storms is on the horizon for a season beginning in less than two months. These provisions are not only necessary on the Gulf Coast, however. Whether flood, forest or brush fire, earthquake, tornado, the entire United States is at risk in the face of natural disasters.
According to a forecast prepared at Colorado State University, hurricane activity will be down only slightly from last year. In fact, they predict an 81% chance of a hurricane making landfall in 2006, up from the 54% average of the last century. Tom Sciacca, owner of CampingSurvival.com, anticipates shortages of both the popular go bag and MRE as storm season approaches and people around the country prepare better than last year. In part this is because of the government response during Katrina last year. As late as April, various news agencies were reporting that the Federal Emergency Management Agency still lacked a leader to replace Michael Brown.
Go bag entered mainstream conversation last year after news reports focused on the importance of such kits for surviving the immediate aftermath of a natural disaster. Chances are, families will have to fend for themselves for at least a little while after a storm. And while it's possible to put together the emergency kits, it's much easier to buy them already assembled and with components chosen by experts for usefulness and durability.
Each go bag from CampingSurvival.com includes food, water and essential items, designed to keep users self-sufficient during the peak of storm-related hysteria:
1 backpack. Deluxe Waterproof Nylon Black Day Pack
6 MRE's
6 MRE heaters
9 AquaBlox. purified emergency drinking water
Survival kit in a can. 38 items which can provide warmth, shelter and energy
Survival blanket
Emergency rain poncho
G.I. style aluminum canteen cup
High energy government survival candy
Hooah energy bar
Personal hygiene kit
Mini first aid kit
Hand powered flashlight
Chow set
MRE are military rations, precooked, sealed and designed to keep for at least 5 years. They are available in a large range of flavors, including gourmet choices like Beef Ranchero Meat Loaf, Jamaican Pork Chop, Chicken with Cavatelli, and Black Bean and Rice Burrito. The MRE are not just entrees. Kits contain full meals, including side dishes, dessert, crackers, spread and coffee.
Hurricane season provides an excellent reminder that any natural disaster – flash flood, earthquake, tornado – can require people to provide for themselves in the short term. A go bag and MRE are easy ways to prepare.
Contact:
Tom Sciacca
CampingSurvival.Com
315-592-4794 X 221
###