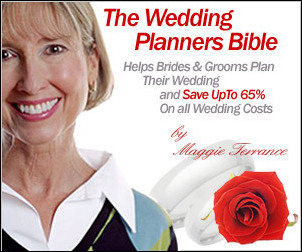 Many people often forget or overlook aspects of the wedding planning process and this can prove very costly later. My web site, book and software prepare you in detail and lead you from 1 year through to the big wedding day, giving any wedding planner, bride or groom the full details necessary to have a very successful and low cost wedding
New York, NY (PRWEB) April 6, 2006
Planning a wedding can be an stressful and expensive experience. Wedding planning expert Maggie Terrance has taken her many years of experience and created The Wedding Planners Bible (http://www.wedding-planner-bible.com/), a remarkable web site, book and free software program that helps individuals and wedding planners alike.
Said Terrance, "Many people often forget or overlook aspects of the wedding planning process and this can prove very costly later. My web site, book and software prepare you in detail and lead you from 1 year through to the big wedding day, giving any wedding planner, bride or groom the full details necessary to have a very successful and low cost wedding".
Brides and Grooms gain from Terrance's many years of wedding planning experience. You can use the easy techniques she shows you in the book and save additional time and money with the free Wedding Planning Software.
The wedding planning software, valued at $395, is free with a book purchase.
This Windows based software includes:
Guest List Planner
Budget Planner
Seating Planner
Check List
Music Planner
Local Supplier Locator
Order of Service Creator
Vows Planner
Wedding Party Planner
The software's flexible budget planner allows you to group costs into simple category that make most sense for your own wedding. Each expense can be budgeted and split into further subcosts. The budget planner tells you whether you are over or under budget. But flick to the summary sheet
and you will be shown further details including your 'likely spend' at the end of your wedding plan based on current spending patterns..
More About the Book:
The book features twenty constructive and easy to learn chapters spanning over 140 pages on all aspects of wedding planning, and includes these bonuses:
Over 80 Unknown Tips that will save you big on your wedding costs
20 ways not to have a big panic on your wedding day
Basic Wedding Planning
Wedding Superstitions
A Complete Grooms Guide
Best Man Responsibilities
Maid of Honor Responsibilities
Honeymoon Guide
Wedding Speeches
Wedding Toasts
Catering
Florists
Managing A Wedding Budget
How To Select A Florist
How To Get Your Wedding License
Planning Your Financial Future
Something Borrowed... Something New
Wedding Vows
Music and Entertainment
Choosing the right Photographer
Choosing the right Videographer
Traditionally Who Pays for What?
Destination Weddings
Wedding Traditions
Wedding Styles and Themes
Top Honeymoon Destinations
Wedding Superstitions
Detailed 6 Months countdown wedding calender/planner
Destination Weddings
Although these are free bonuses, they are all comprehensively written by Maggie Terrance and are fully detailed. Nothing has been left out of the wedding planning book or the wedding planning software. This is the very same wedding planning software Terrance uses daily to conduct her wedding planning business.
Join the other 22,000+ wedding planners, brides and grooms who have downloaded the Book & free wedding planning software at
http://www.wedding-planner-bible.com/
# # #