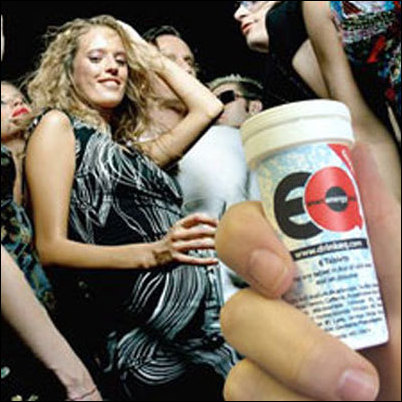 Bethesda, MD (PRWEB) April 6, 2006
It used to be that the word 'effervescence' automatically drummed up thoughts of Alka-Seltzer® and getting rid of that nasty heartburn after a chili dog. Or maybe even a tablet of Polident® to keep those dentures bright and white. Either way, 'effervescence' just wasn't so glamorous; so chic. But these days, the outlook is changing. Now effervescence is everywhere- available in high-end hotels, endorsed by talk show hosts and toted around by celebrities. The US and international markets have seen unique effervescent products enter the mix and prove extremely successful and unbelievably popular. EQ the Smart Energy Drink (http://www.drinkeq.com) is one of the first chic effervescent products in the nation. It's essential mix of vitamins and Ginkgo Biloba, combined with a caffeine blend offers an appealing product to consumers looking for a healthy energizer. In addition, a mild flavor allows it to be mixed into any beverage to offer an instant energy drink. EQ's rapid success and acceptance by consumers can be attributed to the company's drive to provide a unique product that targets the cutting-edge technology of effervescence with the boom of the energy drink market.
Why effervescence? An effervescent product allows its components to achieve fast absorption into the bloodstream. The sodium bicarbonate present can buffer acids in the stomach and digestive tract to reduce stomach upset and nausea. In addition, an effervescent tablet allows its components to be consumed as a pleasant drink, instead of a pill or capsule like grandpa used to take. All things "old time NoDoz" can't claim".
Recently, in the United States, an effervescent health formula called Airborne® started flying off drugstore shelves. Support from Oprah Winfrey and Kevin Costner no doubt helped feed national distribution and sales numbers that now exceed over $100,000 million. Similarly, Berocca®, another effervescent multivitamin tablet, is now a regular find in Australian hotel mini-bars and has a following that includes "American Idol" host Ryan Seacrest. More and more frequently global consumers are now seeing the availability of effervescent tablets as a source of essential vitamins and minerals to achieve better health. In Europe, Australia and New Zealand, consumers can now find stress relievers, immune boosters and vitamin supplements available in effervescent tablet form for both adults and children.
The energy drink market has grown over 700% from the year 2000 and as of 2005 was a $3 billion market. Experts suggest that the market could be upwards of $6 billion in the next two years. In today's fast-paced society, consumers are looking to do more in less time and constantly looking for more efficient and more convenient ways to live life.
EQ knows the consumer. Effervescence is unique and cutting-edge and also boasts convenience, portability and versatility. Energy drinks appeal to a youthful, open-minded crowd willing to try uncommon products. In addition, EQ's sugar-free and healthful blend of vitamins and Gingko Biloba allow health nuts to attach to its restorative components. It is even a great hang over cure. The company plans to align its promotional events and marketing tactics toward this active and adventurous crowd, and has already participated in events such as Super Bowl XL, NASCAR's John Deere 200 and New York City's Fashion Week. Coming up on the calendar are also events such as Bonnaroo, the PGA Championship, the Kentucky Derby, and football tailgates at colleges across the country such as the University of Michigan, Ohio State University and the University of Southern California.
The company understands that the biggest challenge in spreading the word about EQ will be educating the average consumer about the benefits, versatility and convenience of an effervescent energy tablet. Distributing samples will be a major priority in fostering acceptance and interest and increasing EQ's growing fan base. Simply trying EQ can garner a life-long fan. Just ask former NFL star, NASCAR owner and EQ enthusiast Julius Curry. After imbibing a few EQ during a night of partying, Curry approached EQ for a partnership with his minority-owned team, Curry Racing Inc., after he realized the synergy between EQ as a hip and revolutionary product and his plans to open the NASCAR circuit up to a new and more diverse audience.
Though only newly released in late November of 2005, it is of no surprise that EQ's appeal has produced near instant popularity and success. The company is currently in talks with major corporations and distribution channels to support the growing demand for EQ nationwide.
For more information, please visit http://www.drinkeq.com or contact Teresa Chen at 800.884.5771 extension 234.
# # #