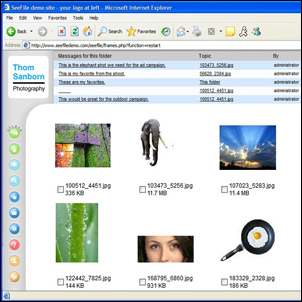 we're really helping photographers maintain control of their business while adding a new level of hands-off order fulfillment
Las Vegas, NV (PRWEB) April 7, 2006
At the Wedding and Portrait Photographers International Conference (WPPI), Seefile Software is announcing their latest innovation- an eCommerce module for Seefile 2.0, their award winning Webserver software for photographers. Seefile has been praised by Shutterbug, Seybold and Studio Photography and Design and was rated best of Show at PMA 2005. SeeFile is exhibiting at WPPI booth 1208.
Seefile already allows photographers to simply save files to folders on their hard disk for clients to view and comment on. Now, those photographers can let their customers purchase and download images and order prints, directly off the server through a convenient shopping cart feature. Photographers can price the images as they wish - offering discounts for larger orders or special clients. As with all existing SeeFile features, this requires only a standard Mac or PC Web browser, with no additional software at the client site. According to pro photographer Nat Clymer, "this looks like a great way for photographers like me to add value and service to their client relationships".
While these kinds of capabilities have been offered by a few large hosted sites, these require photographers to upload their files to a server outside their control, and manage the pricing and fulfillment remotely. While this may be practical for small numbers of images, the revolution in digital capture can mean that hundreds or even thousands of images are generated on each project. By working directly off the photographer's hard disk, SeeFile skips the upload step and gives them direct control over file versioning and delivery to their clients. Traditional methods of image delivery, such as contact sheets and burning CDs on request, can now be reduced dramatically or even eliminated outright.
Sam Bogoch, CEO of SeeFile, added "we're really helping photographers maintain control of their business while adding a new level of hands-off order fulfillment". SeeFile automatically generates thumbnails and previews for large numbers of RAW, JPEG and TIFF files, as well as automatic watermarks to prevent unauthorized use of those images.
New Mac mini Bundles...
SeeFile and its dealers worldwide are pre-installing the software on Mac mini systems and delivering the turnkey solution to customers. At WPPI, SeeFile is introducing two new bundles with Apple's Intel-based Mac mini; one, with the Core Solo processor, SeeFile 2.0 and SeeFile eCommerce, is priced at $1,499. The other, with a Core Duo processor, SeeFile 2.0 and SeeFile eCommerce, is priced at $1,699.
About SeeFile...
SeeFile LLC is an independent software company based in Boston, Massachusetts. Its CEO, Sam Bogoch, was previously CEO of Torque Systems, a systems integrator for the graphic arts. SeeFile has received broad industry recognition from reviews in Studio Photography and Design and Seybold Reports.
###