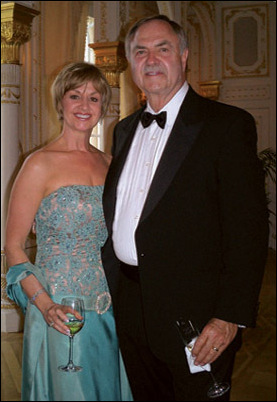 Next to the fashion show with the stars that Marlo Thomas hosted, as an Inaugural event in California, our gala broke all records for an inaugural event for St Jude
Memphis, TN (PRWEB) April 11, 2006
It was truly a fairy tale with real fairy godmothers whose vision was to gather those who shared their passion for helping the children of St. Jude Children's Research Hospital in Memphis, Tennessee. The inaugural gala took place Saturday, March 17th at Donald Trump's Mar-a-Lago Club in Palm Beach, Florida.
Event Chairs Joan and Arnold Weiss of Memphis, and Dorothy and John Sullivan of Palm Beach, Florida dreamed this event into reality. The evening's festivities opened with a procession of event officials, led by Honorary Chairman, Donald Trump who were escorted into the ballroom by the United States Marine Corps members and color guard.
John Roebuck of served as the gala's official auctioneer. Donated items auctioned ranged from a $70,000 diamond necklace to a Harley Davidson Motorcycle. During his term as president of the National Auctioneer's Association, John spearheaded the designation of St. Jude as the group's official charity. The efforts of John and his fellow auctioneers generate millions of dollars for St. Jude each year at a variety of fund raising event.
Event officials also included: Honorary Chairs Donald and Melania Trump; Memphian Marguerite Piazza; Ambassador Mel Sembler and his wife Betty and Congressman Mark Foley and Co-Chairs Irma and Joel Anapol; Chris and Jennifer Thomas and Honorary Guests Rita Cosby of MSNBC; Country music superstar Randy Owen (Alabama) and his wife Kelly; award winning producer and composer Tomaczek Bednarek and Veronica Atkins, widow of the late Dr. Robert Atkins. Dozens of volunteers supported this impressive group with endless hours of work to make the evening a success. St. Jude representatives included Chief Executive Officer of ALSAC/St. Jude John Moses and his wife, and Event Organizers, Fred and Anita Harris and Sherri Costentino.
Like in all fairytales, this fairytale evening had a very happy ending, and event planners agreed it was a dream come true. "Next to the fashion show with the stars that Marlo Thomas hosted, as an Inaugural event in California, our gala broke all records for an inaugural event for St Jude," said Joan Weiss. I would like to thank the many sponsors, donors and volunteers who made this event a true success."
Published by ASMarketingCenter.com a division of AuctionServices.com, Inc. and The http://www.NationalAuctionList.com
# # #