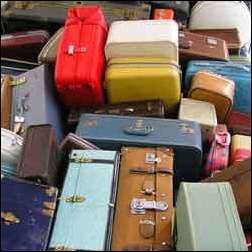 Ship it! UPS and FedEx are more reliable than the airlines, and they have much better tracking technology in place.
Cherry Hill, NJ (PRWEB) April 10, 2006
Airlines around the globe mishandled about 1 percent of the 3 billion bags checked last year. Airlines in the U.S. alone lost 10,000 pieces of luggage a day in 2005. Although airlines claim to return roughly 98% of lost luggage within a few hours to a few days, it makes traveling, and more importantly, enjoying your vacation, difficult.
So, what can travelers do to avoid lost luggage? Tim Jacobsen, Vice President of Luggage Online along with Brooke Dowd, Editor of travel blog Wellpacked.com, offer tips and expert advice.
Dowd says that the best solution would be to carry on your luggage. "But, she explains, with carry on luggage restrictions down to 45 maximum linear inches, for most travelers it is nearly impossible to carry on enough, even for a long weekend getaway."
Tim Jacobsen offers the simplest solution, "Ship it! UPS and FedEx are more reliable than the airlines, and they have much better tracking technology in place."
Here are a few tips to try and avoid lost luggage dilemmas:
· Have your luggage shipped directly to your destination: For a fee, there are many services out there that will ship your luggage directly to your destination, cutting out the airlines all together.
· Use a Global Tracking service such as http://www.globalbagtag.com , a unique item retrieval service enabling you to register your valuable items on a secure database.
· Book direct flights. Connections and extra flights increase your chances of lost luggage.
· Remove any old airline stickers from your luggage. You don't want there to be any confusion about your bag's destination.
· Arrive early. Checking in at the last minute can be the cause of your luggage being lost.
· Make sure the person who checks your baggage attaches the correct destination to every bag, and get a claim ticket for each.
· Make your luggage stand out. There is a sea of Black luggage out there and if yours is Black too, it's that much more difficult to find. Buy colorful luggage or use yarn, tape, neon luggage tags, or bright straps to make it more noticeable.
· Put your name on the outside and inside of every bag. Better yet, if you can, place an itinerary of your trip inside your bag. This will make it easier for the airline to locate you.
· Sounds simple, but pack your valuables in your carry on. Expensive electronics and jewelry are more likely to be stolen than your socks and underwear. And if the entire case is stolen, at least you still have your valuables.
· Travel insurance is always a good idea, and a better way to guarantee that you'll recoup your losses.
You should also note that if your bag is not on the carousel, wait around. Frequently, bags that don't make the right flight end up on the airline's next flight. If all else fails and your luggage is lost, be sure to file a complaint with your airline immediately. Some airlines will only have a small window of time for filing one.
If you're still feeling as lost as your poor luggage, write or call:
DOT Aviation Consumer Protection
400 Seventh Street, SW #4107
Washington, DC 20590
(202) 366 4000
http://airconsumer.ost.dot.gov/
# # #