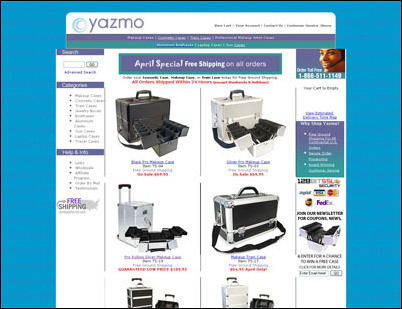 We offer free shipping on top quality makeup cases with the best customer service in the industry.
Brea, CA (PRWEB) April 10, 2006
According to Makeup Artist Magazine, there are enough professional makeup artists currently to fill the job roles of every movie, TV show, and commercial for the next 10 years. With the competition for jobs so unbelievably high for professional makeup artists, the need for cost-effective equipment is even greater. Yazmo.com has released a new product line of train and makeup cases to accommodate the fluctuating budget of today's professional makeup artist.
Yazmo.com also offers free shipping on their affordable makeup and train cases to help today's professional artist. The variety of sizes and styles offered is extensive, which is good for the pro because different jobs call for different specialty cases. No artist wants to be lugging around their entire makeup collection with them everywhere. Not only would this be too much to bear, but the worth of all of that makeup in one place would be too much to risk losing.
Multiple cases are a good idea, since a primary responsibility of today's professional artist is to keep updated on the trends and formulations of new cosmetics. The abundance of products can be overwhelming, though. When an artist is working on set, by union rules, they have only 18 minutes to prepare. That kind of schedule leaves no room for searching for a particular tool deep inside unorganized makeup cases. The numerous and varied size compartments of Yazmo.com's makeup and train cases make organization of tools and products an approachable and simple task.
A professional makeup artist's life can be exciting but at the same time exhausting. Yazmo.com's rolling aluminum cases take some of the strain out of the necessary travel. Typical jobs on sets can last anywhere from 6 months to a year. During this time, an artist typically works 12-16 hour days, 5-6 days a week. This kind of hectic schedule is endured by the professionals who shouldn't have to add carrying heavy cosmetics cases to their responsibilities.
Alan, from the Sales department of Yazmo.com, highlights the features of his company, "We offer free shipping on top quality makeup cases with the best customer service in the industry." Yazmo.com's customer service is of equal importance with their high quality of makeup and train cases offered. Their collection of high quality cases is the largest on the internet. Daniel, the Marketing Director, points out, "We have a great selection of cosmetic cases—everything from professional to personal use."
For more information of finding top quality makeup artist cases, please visit Yazmo.com.
About Yazmo.com:
Yazmo.com offers the largest selection of aluminum cases on the net. Besides train and makeup cases, they also offer jewelry boxes, laptop cases and gun cases.
###