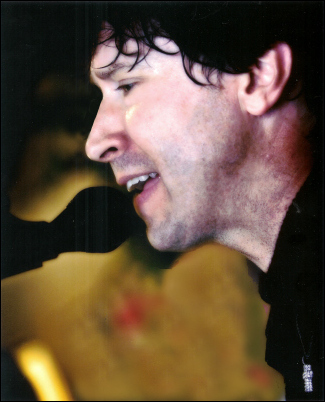 All brain directed functions have associated brain wave patterns.
Los Angeles, CA (PRWEB) April 11, 2006
Flash advertising became popular in the 1950's and 1960's, when it was discovered that by flashing an image within the context of other images that image would subconsciously motivate viewers to crave that item. Movie theaters quickly flashed momentary images of Coca Cola, popcorn and other sundries and saw a staggering rise in their sales. Eventually lawmakers passed laws to prohibit advertisers from using subconscious flash images in advertising.
The California band Scott West & Sex On Sunday has now pushed the flash advertising envelope further by developing and advancing a sophisticated technology that taps into the exact brain-wave sequence that produces sex hormones in humans.
James Kalat Ph D and other scientists have identified this Nitric-Oxide-sex-response mechanism:
1. The research of Scientists Schumann & Madison in 1991 first identifiedt Nitric Oxide as the presynaptic activator that causes the release of neurotransmitters.
2. Kalat states neurotransmitters trigger hormonal cascades and hormone release in his book Biological Psychology.
3. Scent Of Eros authors James Vaughn Kohl & Robert Francoeur identify the gonadotropin-releasing hormone (GnRH) cascade as causing sexual response.
4. According to William Regelson MD Nitric Oxide also relaxes or dialates arteries to allow increased blood flow," which with sex hormones creates sexual response.
5. According to Megabrain author Michael Hutchison, "All brain directed functions have associated brain wave patterns." Nitric Oxide Release Pattern (NORP) is the brain wave pattern associated with Nitric Oxide Release. What allows frequency and beat patterns to be exploited according to Hutchison is a unique characteristic of the brain known as "frequency following response or FFR." FFR allows all frequency and beat patterns to have a physiological effect on the body, that is our brain wave patterns will follow those beat and frequency patterns. If the brain is subjected to the frequency pattern of the brain waves for Nitric Oxide release, it will follow and replicate this pattern via FFR.
SEX MUSIC
What makes SEX MUSIC different and more potent in its overall physiological effect from other music is that it uses specific patterns associated with NORP and or GnRH. This allows sex music to stimulate its listeners when their brain FFRs to a pattern that causes known physiological responses. Music without NORP patterns cannot specifically tap into the FFR for NORP.
Thomas Allen has been calling for a ban on SEX MUSIC and asking for regulation of NORP patterns in all music, but this opens a very dangerous can of worms in that all music affects FFR and could be banned and/or censored under such laws, especially when common patterns in many types of music affect romantic or pre-sexual responses. Should Sex On Sunday's music be banned, because it more effectively taps into FFR and our innate human responses? Should all music be censored or banned so that music that most profoundly affects us is made illegal? Under this system only benign or boring music would be allowed.
ENTRAINMENT BLUEPRINT
SEX ON SUNDAY is a masterwork in its placement of crescendos and corresponding entrainment devices. There is a lot more than NORP going on here. The flow of energy, dynamics and other emotive FFR triggers in each song and throughout the entire album present a blue print for future music producers and bands to emulate.
Scott West & Sex On Sunday's Music
THE SECRET BEAUTY
Sex On Sunday's song "Pair of Angels" belie West's clarity of purpose as he chants the names of the archangels charged with "All secrets in the universe" (Raziel) and "all that is beautiful in this realm" (Jophiel). Is West referring to the "secret beauty" hidden within many of his songs or perhaps what some are now calling Nitric Oxide Release Patterns (NORP) and their ensuing FFR patterns of hormonal resolution? The reverse Caledonian that is whispered during this song refers to the "beautiful secret" that is "hidden within." West is literally taunting his listeners with his esoteric reference to his own sex music. This song is yet another example of Sex On Sunday's command over FFR with a subtle, syncopated, harmonies build that crescendos into a burst of energy that is filled with symphonic NORP and NORP release patterns and backed with Tesla's Troy Luccketta and Cake's Gabe Nelson supplying the Drum and Bass firepower. West ironically sings "Keep my, Keep my, Keep it clean" in the middle of this piece, which is placed precisely in the middle of the first Sex Music album.
THE SEX ON SUNDAY CD
Most CD's have one or two radio-worthy songs, but Sex On Sunday is a treasure trove teeming with well crafted songs. The opening radio friendly "Standing On The Moon" starts as a Coldplay-like ballad but releases into a Radiohead worthy wall of guitars with a very current sound.
The second song is perhaps the highest energy piece on the album and is packed with Tesla's Frank Hannon's hooky guitars lines and an enchanted muted guitar rift by former Stevie Ray Vaughan ax-man Timmy Barnes. SOS follows this with an orchestrated Beatlesque song "Keep It Clean" that would make Oasis, George Martin, and The Fab Four all blush with envy. It is that good. "Keep It Clean" features Gabe Nelson from the band "Cake" playing a magical McCartneyesque baseline on a 1960 Hofner bass.
The fourth track is titled "Oh Boy" and is perhaps the most dynamic song on the album showcasing West's vocal range which goes from those soft-delicate-airy-sexy tones to his throaty full voice harmonies that glisten throughout his impressive range. There is a reason West gets compared to Maroon Five and Queen. Make no mistake with Mike "Megavoice" LePlante, Scott Rich, Perry Clark and West, this band can sing with the best in this business and "Oh Boy" features a full symphony and tympanis with the back bone of the band Tesla (Troy Luccketta, Brian Wheat & Hannon) all crunching together.
The fifth selection is the aforementioned song of secret beauty "Pair Of Angels," which sets up Sex On Sunday's famous Spring Break favorite "Room 413," which is a modern day Hotel California. The seventh cut is a song with lyrics derived from Afghan poet Rumi that features an infectious latin beat, Sting-like imagery and harmonies that sound like the Eagles or America stepped into the current scene. Fallback is a song that would fit on any Coldplay record or alternative play list and is yet another hook-laden effort that screams radio.
The last piece is a modern Pink Floyd feel featuring Sex On Sunday's West and Tesla's Hannon. This piece would fit perfectly on Dark Side of the Moon and is the perfect bookend to Sex On Sunday's popular "Standing On The Moon."
Like Nirvana, this is a band with a destiny that could change the face of popular music. Sex On Sunday is more than a band with crisp vocals and a fresh new sound. Sex On Sunday has forged the new genre of Sex Music.
Carric Durran
Los Angeles
Track Listing:
1. Standing On The Moon
2. I Could Never Go For You
3. Keep It Clean
4. Oh Boy
5. Pair Of Angels
6. Room 413
7. Naked In A Ruby Mine
8. Fallback
9. Portrait Of A Shadow
Scott West & Sex On Sunday's Music
The Scott West Interview
Interviewer: Is Sex Music real?
Scott West: I don't think anyone can deny the effects of sound on the human brain. In 1975 Bob Monroe patented FFR or Frequency Following Response, so it was real enough for the USPTO. Monroe found that brain waves could be driven or entrained when the brain is bombarded with pulsating sound waves. With binaural beats we can even tap the frequencies below the thresh hold of human hearing or below 40 Hz. So yes brain waves can be altered by sound and yes the corresponding frequencies and patterns for brain activities can be driven. We can boost your Seratonin levels at 10 Hz. We can make you more responsive and able to retain information at other levels or we can induce sleep and the opposite. We can manipulate other processes with sound. But the flow and constructs on the Sex On Sunday album align many different dimensions together. The openings to Standing On The Moon, Keep It Clean and Pair Of Angels use specific devices to enhance the ensuing brain patterns and response later on. It's a bit like sonic painting with very real acoustic, dynamic and binaural beat FFR effects. People shouldn't discount it as sound sorcery.
Interviewer: If this is true should sex music be banned?
Scott West: Your question does not discern the dimensions of proportion. FFR can literally follow almost any musical pattern. Do you want to ban or censor all music or just music that makes people more romantic. Would you only allow music that has an overall benign or boring effect. Would you ban music by artists that use FFR elements most effectively and/or combine it with elements of dynamics and musical construct?
Interviewer: But the Thomas Allen study found that Sex On Sunday's music sexually stimulated females that were subjected to it. Shouldn't Sex On Sunday's music be banned or censored, if this is true?
Scott West: If you read the results of this group's supposed research, they had to loop a section of our song and play it over and over again to get this alleged effect. So they had to manipulate our music from its original form to get the results that they wanted and from these manipulated results they are calling for a ban on our music. You have to loop the alleged NORP sections from our music over and over again, which is not how our music is on our CD or when played on the radio. So their call to ban us is meritless and unwarranted.
Interviewer: Sex On Sunday has been getting a lot of press and airplay exposure lately. Now Sex On Sunday is covered on Entercom Radio, Clear Channel Radio, National Public Radio, Maxim Magazine Radio (Sirius Channel 108) and Playboy Radio (Sirius Channel 198) coast to coast.
Scott West: I don't think that it is fair to blame our music for the actions of individuals at Spring Break. It's ridiculous. Our music might have been playing in the background, but that is not a causal mechanism.
Interviewer: This album is over the top in every way. Tell me how you did it.
Scott West: We spent 9 months creating this CD, arranging the orchestra and aligning our recording schedules between studios, engineers, Tesla's European and Canadian tours, Timmy Barnes tour schedule and Anton Barbeau's U.K. tour. The singers in my band are all handpicked lead singers from other bands. We're a band of front men. There are a lot of hidden elements and symbols within this record drawn from Jelaluddin Balkhi (Rumi), Pliny, The Yoga Sutra Of Patanjali, a Caledonian section on angels, Dante, and other ecclectic sources. I wanted to create a mystical "Las Meninas" like the painting by Velasquez that has so many different hidden symbols, layers and levels.
Official Spring Break Song & Sex On Sunday's Sex Music Blamed For Arrests In Cancun & Panama City Beach
Study Shows Sex On Sunday's Music Makes Female Listeners Sexually Stimulated
# # #