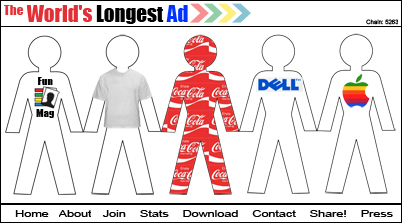 I'd like to see the ad reach at least five million chain men.
Windsor, ON, Canada (PRWEB) April 10, 2006
Web Entrepreneur Noah Fleming announced today the launch of TheWorldsLongestAd.com. The site allows advertisers to purchase and design their own ad space on what some are already calling the next Million Dollar Homepage.
TheWorldsLongestAd.com is a constantly running advertisement made up of virtual paper chain men. Advertisers can download a chain man template to design and create their own advertisement. The site is unique in that it's constantly changing and updating. Visiting the page multiple times will allow the viewer to always watch new ads.
Fleming says, "I'd like to see the ad reach at least five million chain men." Using his calculations, an advertisement of five million virtual chain men if printed would be approximately 189 miles long. He has also applied for a Guinness World Record for the World's Longest Online Advertisement.
While Fleming admits that the Million Dollar Homepage was ingenious and helped young entrepreneur Alex Tew reach his goal of earning a million dollars for his college tuition, Fleming's goals are different. Fleming wants to see TheWorldsLongestAd.com become precisely that: the World's single, longest Internet advertisement. While placing an ad on TheWorldsLongestAd.com is not free, Fleming believes the long-term value of ads purchased on his website will be priceless. He has also made it possible for others to earn money by promoting TheWorldsLongestAd.com through a built in affiliate program.
For additional information contact Noah Fleming or visit TheWorldsLongestAd.com.
About Noah Fleming:
Noah Fleming is best known as one of the first to utilize both RSS & Blogging. Fleming developed the AppleWire.com, a site that automatically gathered Apple Computer news from various RSS Feeds around the net and automatically did the blogging for him.
Contact:
Noah Fleming, Direct Perspective Marketing & Communications
519-259-8037
http://www.theworldslongestad.com
# # #