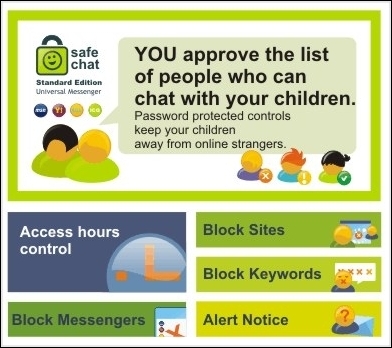 We wanted to develop tools to help parents prevent their children from ever becoming involved with these real world monsters
Palm Harbor, FL (PRWEB) April 25, 2006 -–
Zihtec, a leader in Internet protection software, is pleased to announce the release of their new Safe Chat Universal Messenger with Parental Controls. This innovative new program provides the functionality of a universal messenger client combined with a host of protection features never before offered to the public in any other software.
With hundreds of thousands of sexual predators on the loose and trolling the Internet every minute in attempts of seducing underage children into performing sex and other lewd acts, parents must take an active role in order to protect their children by determining both when to allow their minors to have online access and what they will be allowed to access. With Safe Chat, parents can rest assured that their children will be protected when using the Internet because Safe Chat actively prohibits all interactions that have not been previously authorized.
Safe Chat Universal Messenger lets parents decide who can chat with their children, what can be said and when their children have access to the Internet. Chatting is controlled in both software and browser based chat programs. Chat times can also be constrained to set hours and parents can feel comfortable that all foul language and profanity will be blocked from their children while chatting with their friends online.
"We wanted to develop tools to help parents prevent their children from ever becoming involved with these real world monsters," explains Gabriel Luu, creator of Safe Chat. "I'm proud that we have been able to develop such an effective tool to help parents protect their children. It allows for the perfect blend of accessibility and stout protection for parents and children alike."
Safe Chat is compatible with Windows XP, 2000 and 98SE and supports chat clients, or instant messaging programs, including: MSN, Yahoo!, AOL and ICQ. When using Safe Chat Universal Messenger, all other chat programs will be completely disabled for your protection.
To download a free trial of Safe Chat Universal Messenger, or to find out more information on how this unique new program can protect your children, please visit http://www.zihtec.com.
About Zihtec:
At Zihtec, we are focused on returning control of the computing environment to the owner of the PC. We put child safety first by integrating the most up-to-date protection technology into our software. We give parents the tools to keep kids safe online. Zihtec is also the author of the award-winning ZAPaSPAM with parental controls, an e-mail spam solution that eliminates ALL unsolicited and unwanted e-mails.
Contact:
Gabriel Luu
206-888-2927
###