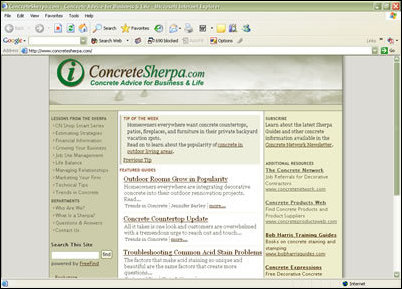 Yucaipa, CA (PRWEB) April 12, 2006 –
The journey in building a successful concrete construction business is similar to trekking up a spiral path circling a Himalayan mountain. Often one needs the help of a "Sherpa" (or mountain guide) to ascend to a higher level of success than would have been possible by going it alone.
That's the concept behind ConcreteSherpa.com, a new online resource for concrete contractors who need expert guidance in running their business. Created by The Concrete Network, the site provides 45 reports on a lofty variety of topics including estimating strategies, jobsite management, trends in concrete, field supervision, and improving profitability. All the reports are free for visitors to download, print, and share.
According to Dan Tate, The Concrete Network's director of new products, the five most popular and most frequently downloaded reports include the following titles:
Understanding Profit
Estimating Requires Focus in Five Areas
Be Right on the Big Stuff – Job Costing
Investing in Your Future – Establishing a Marketing Budget
Building Relationships that Increase Profits
Many of the website's reports are authored by well-respected industry leaders, including Bob Harris, president of the Decorative Concrete Institute; Alan Sparkman, executive director of the Tennessee Concrete Association; Chris Sullivan, national technical director and sales manager for QC Construction Products; J. Chris Cooper, president of Orgpax Publications on organizational leadership; and Charles Vander Kooi, president of Vander Kooi and Associates and a construction industry consultant and speaker.
ConcreteSherpa.com can give concrete contractors insight from a vantage point or two higher than where they stand now on their climb to running a successful business. For more information, visit http://www.ConcreteSherpa.com.
Established in 1999, The Concrete Network's purpose is to educate consumers, builders, and contractors on popular decorative techniques and applications including stamped concrete, stained concrete floors, concrete countertops, polished concrete, and much more. The site excels at connecting buyers with local contractors in their area. For more information, please visit http://www.concretenetwork.com
# # #