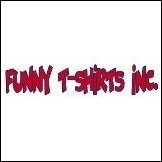 The new Funny T-Shirts site is sleek and professional, a long overdue renovation from our previous site. In addition to our increased selection of designs, customers will also be able to create their own custom t-shirts by uploading their own graphics or photos
Philadelphia, PA (PRWEB) April 12, 2006
Funny T-Shirts, Inc., (http://www.funnytshirts.biz) is celebrating its three year anniversary with a redesign of the website, which is a complete overhaul of the look and feel of the site. The website has expanded its inventory by 300 percent, adding its 500th design to mark this milestone.
The newly designed site also has a new "Custom Design" feature allowing customers to design their own t-shirts. Custom designs often include promoting a team or group, capturing a special event, or sometimes even having a little fun at someone else's expense. Once a design is created by hand or with a digital photograph, customers upload the image and see it transplanted onto the t-shirt in the color and style of their choice. Underlying color and style palettes change in real-time until the final product is a one-of-a-kind t-shirt, unique to any other.
"The new Funny T-Shirts site is sleek and professional, a long overdue renovation from our previous site. In addition to our increased selection of designs, customers will also be able to create their own custom t-shirts by uploading their own graphics or photos," said Marius Saca, President, Funny T-Shirts, Inc. "We listened to our customers who wanted to see their own designs come to life and have worked to make this feature easy and fun to use."
Where else can you buy a sentimental t-shirt for your grandma's birthday and a borderline offensive t-shirt for your gothic, skater anarchist roommate? Funny T-Shirts Inc. can certainly fit the bill.
The renovated website provides its diverse customer-base with an equally diverse selection of shirts, ranging from the cute and funny to the rude and obnoxious.
"We pride ourselves in being able to please even the most sophisticated t-shirt connoisseur," said Saca.
About Funny T-Shirts, Inc.
Founded in 2003, Funny T-Shirts, Inc. was launched by web-savvy entrepreneurs wanting to express their views of the world the best way they know how, on t-shirts. Funny T-Shirts, Inc. has built a well-respected brand by providing consumers with a diverse selection of expressive t-shirts. Over the past three years, Funny T-Shirts, Inc. has been one of the most heavily trafficked apparel websites and has established one of the largest customer bases of online t-shirt retailers on the internet. The Funny T-Shirts Inc. website showcases one of the largest selection of choices and styles of t-shirts in the world. Shirts are available from American Apparel, Hanes and Anvil in short-sleeve and long-sleeve styles for men, women and in unisex styles. Funny T-Shirts, Inc. can be found online at http://www.funnytshirts.biz.
###