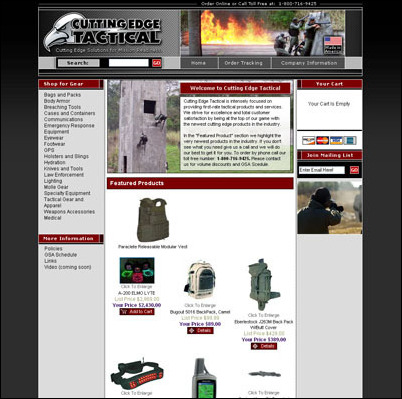 Cutting Edge Solutions for Mission Readiness
Moyock, NC (PRWEB) April 11, 2006
With the United States moving into year four of the war in Iraq, outfitting and providing effective equipment for our troops is of national importance. Cutting Edge Tactical knows first-hand that the number one purpose of military tactical equipment is to provide a soldier with mobility and function. They have opened an online supply store with their aptly named slogan, "Cutting Edge Solutions for Mission Readiness".
Among those solutions offered are military tactical lights and equipment. They stock the highly effective ELMO-lytes to give direction and vision in tactical response situations. ELMO stands for Enhanced Linear Mobile Optic Lighting. It is a secure and fast way to supply visual communication in high-pressure situations. In addition, the Foxfury infrared lights sold on CuttingEdgeTactical.com withstand intense wear and tear with their polycarbonate housing of light.
MOLLE gear, made by Eagle, can also be found at Cutting Edge Tactical. In the history of the United States, MOLLE gear has been tested and evaluated the longest. The modifications made to MOLLE gear in the past reflect the changing environment of modern war. The result is the most efficient human pack mule system to date.
These are only a few examples from the extensive inventory of military tactical equipment sold by Cutting Edge Tactical. Other supplies include the Paraclete releasable military vest, Hurst rescue equipment, mil-spec Panoptx sunglasses, Garmin GPS tracking devices, Rapid Deployment bag, Embo-optics products, and Custom Machine and Tool breaching tools.
The considerable expertise behind the company makes staying on the "Cutting Edge" of equipment possible. The company is owned by the discriminating and self-professed "Navy Brat" Anita M. Miller. Along with Ms. Miller, CuttingEdgeTactical.com employs retired Special Operations military personnel and other customer sales representatives with solid backgrounds in the medical fields and firefighting.
Ms. Miller is dedicated to providing the best through Cutting Edge Tactical, "As our name implies, we are cutting edge. We are the company for the newest, most cutting-edge equipment for our military and law enforcement community. We are committed to finding the newest and best products out there. We don't carry 10 manufacturers of the same product—only the very best and most effective at keeping our military and law enforcement safe. Our goal is to be the 'Cutting Edge Solution for Military Readiness.' Our competitive advantage is that we are committed 24/7 to getting what they need at a good price in a timely fashion!"
For more information of military tactical equipment and law enforcement gear, please visit CuttingEdgeTactical.com.
About Cutting Edge Tactical:
The owner, Anita M. Miller, has 30 years of optical industry business experience and is a proud "Navy Brat". The sales force employed by Ms. Miller includes retired Special Operations military personnel, firefighters and individuals from the medical field.
# # #