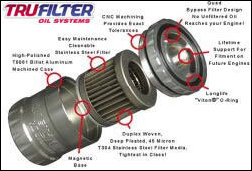 Van Nuys, CA (PRWEB) April 12, 2006
Consumers who wouldn't dream of putting substandard gas or oil in their precious pickups no longer need to settle for substandard oil filters. The all-new TruFilter Oil Filtration System from Performance Products is a revolutionary design that provides 100% oil filtration through a woven, deep pleated .45-micron surgical stainless steel filter. Powerful rare-earth magnets integrated into the filter capture the smallest metal particles and keep debris from re-entering your engine. The result is extended engine life, improved performance and fuel efficiency, and the added savings of never buying another oil filter.
The TruFilter's T304 filter media is washable and reusable, and patented Quadflow Technology doubles oil flow to the motor compared to a standard paper filter. Installation is easy, simply spin on the TruFilter in place of your standard oil filter, no special tools are necessary. Billet aluminum and T304 stainless steel construction mean you'll never have to buy another oil filter, and the Trufilter comes with a lifetime warranty.
Performance Products carries dozen of different TruFilter applications, from domestic pickups and SUVs to the latest import trucks and vans. For complete information on the full line of Performance Products truck parts and truck accessories, or to receive a copy of their FREE 2006 CATALOG, please contact Performance Products, 8000 Haskell Ave., Van Nuys, CA 91406. (800) 752-6268, or visit http://www.performanceproducts4trucks.com.
###