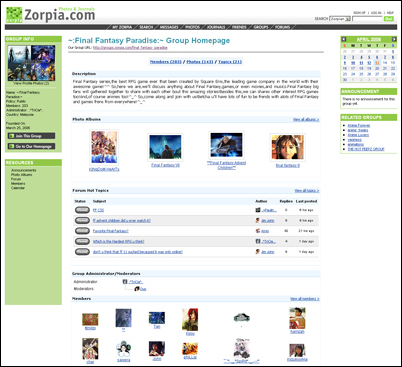 I am most comfortable in the type of well-ordered environment. It allows you to be more open and speak freely. It also gives you a greater sense of security
(PRWEB) April 13, 2006
Say goodbye to the traditional group features you have used in the past. A well-rounded group function launched by Zorpia.com is bringing a new experience of photo and information sharing with people of the same interest.
"Unlike the traditional group features, we integrated our comprehensive photo sharing technique into groups where people could upload unlimited amount of photos, share them in a slide show and post comments" said Jeffrey Ng, CEO and founder of Zorpia.com.
Ivy Rose, an active member of Zorpia from the United States, thought photo sharing spiced up the dynamics in the groups.
"Visual stimulation seems to strike up more conversations. Plus it adds something special to the groups. I am more drawn to groups that feature photos," said Rose.
Shirley Rouvi, an avid Zorpia group user, commented that "members can find photos they want from groups, whether it is about fashion, music or anything else. And if they like specific photos, they can even swap them with one another."
Zorpia's group feature also allows members to create a spot exclusively for their own preference. The privacy control system allows group owners complete freedom in monitoring their groups. "Every group has an administrator who has the power to assign a desired number of moderators. Administrators can also determine their group's privacy level; public, protected or private" stated Ng.
"I am most comfortable in the type of well-ordered environment. It allows you to be more open and speak freely. It also gives you a greater sense of security" Rose said.
Rosnani Salam, a Zorpia enthusiast from Malaysia, commented on the future of Zorpia's group feature.
"In time, I believe the group feature will become the most popular feature in Zorpia. We have millions of members who will surely flock together in their own style of groups," stated Salam.
"Groups are formed by many communities where people share similar hobbies, interests, and ideas. They build their own culture and way of communication. There is no doubt that Zorpia's group feature will become the next jackpot in Zorpia.com" said Ng.
About Zorpia.com
Zorpia is a social networking website. It currently has 1.9 million users, 10.5 million photos stored and are receiving 2.5 million pageviews each day. It provides a community setting for users to share unlimited photos, post journal or forum entries, and customize personal profiles and skins. Their userbase is internationally diverse, most prominently with 15% from the United States, 10% from the United Kingdom, 10% from Canada, 10% from Singapore and 10% from Malaysia. It is similiar to myspace, flickr, friendster, facebook, hi5, xanga and tribe.net.
###