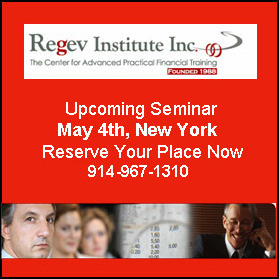 New York, NY (PRWEB) April 12, 2006 -–
Having an accounting degree alone is not enough to ensure success. Financial professionals, who aspire to reach and maintain CFO or Controller positions, need to continue to increase their knowledge in order to compete in today's dynamic and increasingly competitive business environment.
In today's business world where competition, cost cuts and client demands are only becoming tougher, companies need to rapidly respond to evolving opportunities and threats. Finding a qualified and approved CPE Training Center is the Key to Success.
Qualified Financial Professionals are required to meet the annual demand for CPE (Continued Professional Education) Credits. Regev identified the need for specialized professional education and access to timely information. In a fast paced world speed and efficiency are essential for financial management success.
Regev professional finance training courses and programs have help hundreds of clients become professional CFOs and Financial Controllers. In 2 hours, registrant's gain valuable training, knowledge and skills and are also awarded over 40 CPE credits towards their annual CPA requirements.
Every Regev course focuses on the practical features of the position of Controller or CFO in an organization whilst experienced faculty staff imparts vital knowledge and professional tools that can be used immediately on the job on a day-to-day basis.
The Regev Institute strives to match industry demands with workplace skills. Regev offers Approved Training Courses and Seminars to Financial Professionals. Every Training Course and Seminar is accredited and CPE Credits awarded for participation.
Visit the Regev Institute Website for detailed course and booking information
About the Regev Institute for Practical CFO and Controller Training:
Over 18 years ago the Regev Institute was founded after the realization that an accounting degree and working experience alone were not adequate to prepare executives for the unique challenges of CFO and Controller positions. To remedy this, the Regev Institute created a real-world training program that provided the knowledge, skills and self-confidence needed to succeed in this highly competitive field. The Institute continues to update and tailor courses to conform to American practices. Regev Institute USA is headquartered in Rye, New York. http://www.regevinstitute.com
Contact Information:
Clifton Flack
###