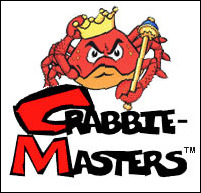 That's exactly what we need lots of people to think about it!
Minneapolis, MN (PRWEB) April 12, 2006
According to an article on its site, Cool Site of the Day looks for content that is innovative and clever with a 'word of mouth' quality. According to Becky Undlin, the woman behind CrabbieMasters, "That's exactly what we need lots of people to think about it!"
But first, people simply need to even know the CrabbieMasters site exists. There is no 'marketing budget' – this site is simply the result of Becky running her own in-home preschool for the last 25 years and wanting to share the most significant aspects of the program that has helped her be as successful as she has been in working with literally scores of young children. With the extensive following that Cool Site of the Day has garnered over the years, she hopes this honor just might give CrabbieMasters the credibility and visibility pushes it needs.
CrabbieMasters is meant for parents, preschool and early elementary teachers, childcare providers – literally anyone who loves working with young children. It's meant to help everyone know how to have a better day, by knowing when the always irksome, imaginary characters – The Crabbies – have tried to sneak in and ruin a perfectly good time, and then of course, knowing how to "BEAT The Crabbies!"
By the way, Becky thinks it's important that people know that she didn't build this website on her own. She is definitely an internet novice, she says. It was actually one of her very first preschoolers, Paul, now in his early twenties, who had been telling her for over a year that he wanted to build her a website, because he so appreciated what and how she taught, who got it all rolling. With respect to CrabbieMasters, which is based on the idea of learning how to "BEAT The Crabbies!" plus a number of related ideas, he was certain that if she could 'share it with the world' it would help "tons of people" – so now, two years later, it's out there for the browsing.
For free even! That's right. Becky believes that no one should be left out of learning how to "BEAT The Crabbies!" or practicing the "U.L.T.I.M.A.T.E. Skills" or becoming "WiseOnes" or learning leadership and responsibility through "Kids-In-Charge". There is the option to donate so that she can make the website better – she thinks animation and voice would be awesome someday if people like the idea enough to help out – but in the interim, no one will be left out just because of money. That's just the way she thinks it should be.
It's worth noting that as young as CrabbieMasters is, this isn't its first award. In February CrabbieMasters was honored to receive a 2006 Parent To Parent 'Adding Wisdom Award' (educational websites category), created by Jodie Lynn, syndicated parenting/health expert, Parent to Parent CEO, and author of family/health book, Mommy-CEO.
Michael Undlin
CrabbieMasters
(612) 309-6548
# # #