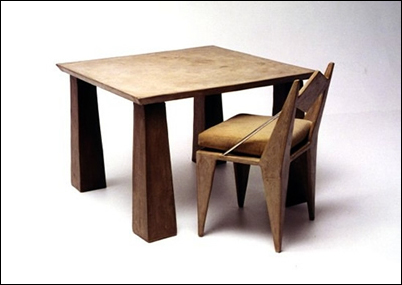 Yucaipa, CA (PRWEB) April 14, 2006 –-
Like most other Americans, when it comes to furnishing the home, one looks for pieces that are stylish, versatile, and a reflection of self. Many don't realize that concrete can be used in myriad other ways to furnish and bring a sense of style home through concrete furniture — inside and out.
Concrete offers many qualities for furniture. It is being used for tables, benches, bookcases and even chairs in homes and offices around the World. Download a free catalog about different types of concrete furniture. Concrete is extremely versatile and can be formed to accommodate any type of existing space restrictions.
Because of its versatility concrete is one of the only materials that can be molded into countless shapes. Surfaces can be made to have soft, graceful curves and textures, complimented with warm, soothing color tones. Each concrete contractor offers his or her own unique standard and premium colors. And many will create custom colors to help match or complement other furniture.
Concrete offers a unique look and its creative possibilities are endless. Each concrete artisan approaches his or her craft personally, achieving a distinct look by building his or her own forms, developing special casting techniques, and using proprietary materials and coloring methods. Concrete also gives a natural look and feel and blends well with other design elements.
For a look that's bold and contemporary, fabricators can cast concrete into interesting geometric shapes and color it an array of bright, vivid hues. The very same elements that make a beautiful and unique kitchen countertop or bathroom vanity will also make a one-of-a-kind piece of furniture. There has been an explosion of new colors and decorative options.
The Concrete Network's Find-A-Contractor service provides visitors with a list of decorative concrete contractors throughout the U.S. and Canada. The service is fully searchable by 22 types of decorative concrete work and 198 metropolitan areas throughout North America.
Established in 1999, The Concrete Network's purpose is to educate consumers, builders, and contractors on popular decorative techniques and applications including stamped concrete, stained concrete floors, concrete countertops, polished concrete, and much more. The site excels at connecting buyers with local contractors in their area. For more information, please visit http://www.concretenetwork.com
Photos courtesy of Kline Construction and Kaldari.
# # #