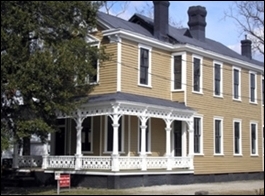 Historical plaques provide a personal snapshot of Wilmington and its people
Wilmington, NC (PRWEB) April 17, 2006
On Monday May 8th, from 11AM to 12PM, The Fine Coastal Living Team will celebrate Wilmington's history through the unveiling of the historical plaque for the Horace Bagg House located at 114 North 6th Street. Each year, The Wilmington Historic Society awards approximately 25 plaques to homes over 75 years old with the goal of documenting their history and educating the public.
Currently listed for sale at $585,000, the Horace Bagg House has undergone complete renovation without sacrifice of its historic elements. Modernized features include new wiring, plumbing, insulation, sheetrock, water heater, 2 HVAC units, and hydro-stop covered roof. In the remodeled kitchen, you'll find granite counter tops, new stainless steel appliances, tile flooring, and a gas fireplace. Off-street parking is also included.
Consistent with the Queen Anne architecture of its time, this North Carolina historic home is complimented by a wraparound porch decorated with original gingerbread trim. Inside, refinished hardwood floors and an original Eastlake style mirrored mantel help you step back in time to the late 1800's when the home was constructed.
The Horace Bagg House was originally owned by Captain Horace Alexander Bagg, born 1828. Captain Bagg's career in Wilmington North Carolina included public offices as deputy sheriff of the county, city clerk and treasure, chairman of the Board of County Commissioners, and chairman of the County Board of Education. After his death in 1910, the home was passed to his son Horace W. Bagg until 1931. The home was owned by the Bagg Family until 1957.
The plaque will highlight this history and provide information about the home's architecture and date of construction.
"Historical plaques provide a personal snapshot of Wilmington and its people," explains George Edwards, Executive Director of the Historic Wilmington Foundation. "The purpose is to educate the public and provide historical insight."
Since its formation in 1966, the Historic Wilmington Foundation has approved over 450 plaques, each hand-painted and unique in content.
The public is welcome to join The Fine Coastal Living Team and the Historic Wilmington Foundation for the unveiling of the plaque. Refreshments will be served.
For more information about the Horace Bagg House, North Carolina historic homes or Wilmington NC real estate, please contact The Fine Coastal Living Team at 877-836-6906 or visit their website at http://www.FineCoastalLiving.com.
# # #