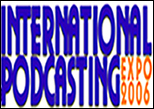 Podcasting is the New Black: Learn the Ins & Outs of Fashion Podcasting from Google's #1 Fashion Podcaster
Canton, GA (PRWEB) April 16, 2006
Fashion is now something you can see and "hear", thanks to Lesley Scott, Editor in Chief of FashionTribes.com, five fashion & lifestyle magazines in one, all customized by taste. A pioneer in podcasting within the fashion industry, she will be presenting "Podcasting is the New Black: Learn the Ins & Outs of Fashion Podcasting from Google's #1 Fashion Podcaster" at the International Podcasting Expo, April 21 - 23, 2006.
The Fashiontribes.com Blog & Podcast updates hourly throughout the week with the up-to-the-minute scoop on fashion, beauty, home décor, travel & lifestyle. Fashiontribes has all the latest in Fashion, Beauty, Lifestyle & Pop Culture - all customized for each fashion "tribe." As Google's #1 Fashion Podcaster, Lesley Scott podcasts daily with must-know style tips & secrets, along with regular podcasts & videoblogs of interviews with fashion, culture & lifestyle insiders.
As a pioneer in the world of online fashion & lifestyle publishing, blogging & podcasting, Fashiontribes.com is devoted to promoting the brave new world of online media. From veteran devoted fashion & style watchers, to fashion journos looking for a new platform for their work – who also possess the gift of gab! - podcasting offers amazing opportunities. Anyone with a vision & some dedication can now easily and affordably circumvent the monolithic obstacle of traditional broadcast media.
"Podcasting makes it possible for alternative, vital voices to produce their own internet radio, heard as streaming audio or on an MP3 player by hundreds or thousands (and possibly hundreds of thousands) of regular listeners around the world," states Ms. Scott. "We are thrilled to have Lesley join us. She is bringing podcasting into an entirely new frontier," adds Penny Haynes of 1st Podcast Publishing, organizer of the Expo.
To view a short online video tour of the Virtual Expo Site, go to http://www.InternationalPodcastingExpo.com.
# # #