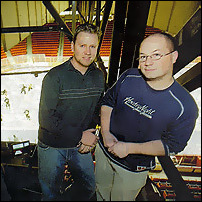 What makes the project unique is that the replay artists have the ability to do this after the play
(PRWEB) April 18, 2006
360 Replays announced today a new 3D video replay system for use by sports arenas. 360 Replays has changed the way people will see replays of the world's greatest games.
The 360 Replays system allows viewers to see the action from all sides. This is not some kind of new television that viewers need to use. It's simply a way to construct replays picking the best camera view. It is even possible to 'stitch' together several cameras and create spinning, near-3D effects, stopping, reversing or altering the playback speed.
The new system has a lot more cameras than a traditional system. All cameras record in unison, controlled by a single operator and all cameras are pointing at the same spot. Then things get really cool. Didn't see how a check got missed? Not sure how that d-man broke out of the zone? Was that really a goal? It is now possible to spin around the play from any angle and review. Move to a certain point in time, then 'scrub' the view, much like editors have traditionally scrubbed time.
"What we have developed is essentially what will be expected by hockey viewers of the so-called 'Nintendo Generation'," says James Chambers, co-founder of the project. "The package we've put together allows replay artists the ability to spin around any subject in the field of view, at any point in time."
"What makes the project unique is that the replay artists have the ability to do this after the play," added Michael Brown, another of the company's co-founders. "Camera angles do not have to be chosen in advance. All camera angles are saved and can be viewed from up to 72 synchronized views when the action is complete. Nothing is missed."
The system operates on a "play-and-process" concept, meaning that as soon as the play is complete, the replay operator can scrub time and dimension to come up with the best angle and send the replay to broadcast, or to the video review judge. The entire process can be completed in less than 30 seconds, ideal for broadcast, goal review, training or many other applications.
"We've worked closely with a major junior team since the halfway mark of the season to tune the system and improve the usability," says Brown. For three months, the company has been adding features and improving usability. Users can pick which angle they wish to review or spin around the play and incorporate the spin into the replay, resulting in a near-video game look-and-feel.
About 360 Replays:
Since it's inception in 2005, 360 Replays has been based in Manitoba, Canada developing technologies for sports broadcasting. A small group of astute software engineers and architects make for an agile and high-energy team enabling innovation in the broadcast and live production arenas.
Media Contact:
Michael Brown
360 Replays
Phone: 204-724-2794
###