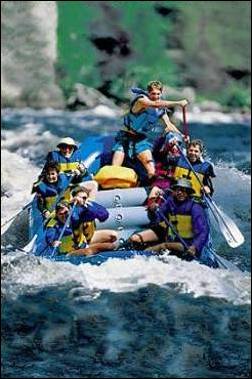 Bethel, ME (PRWEB) April 22, 2006
In 1976, six hundred brave souls rafted the whitewater rapids of the upper Kennebec River to its confluence with the Dead River. Two hundred years earlier in 1775, another group of intrepid warriors under the leadership of Benedict Arnold, branched off the Kennebec and paddled up the Dead River in a fateful attempt to capture Quebec. The two parties had something in common. They were both primarily adult young men venturing into the unknown on an expedition that could not be characterized as enjoyable.
Thirty years after the first rafters descended the Kennebec Gorge, the demographics and the experience have changed.
Adventure travel has shown explosive growth over the past decade. The Travel Industry Association reports that American travelers want their vacations to be more thrilling. They are looking for new ways to challenge themselves, to push their physical energies to the edge and face nature at its boldest moments. At the same time, travelers want a wilderness experience on comfortable terms with the lodging and dining values of urban America.
Technological improvements in equipment and operations, the development of a lodging and dining infrastructure and the creation of varied outdoor adventure programs have resulted in a rafting industry that annually hosts over 75, 000 rafters and an equal number of visitors participating in year-round outdoor recreational activities.
Self-bailing rafts, Type V personal flotation devices and high-tech fabric wet suits and spray jackets are all standards in the industry. Maine's whitewater boating regulations, administered by the state's Department of Inland Fisheries and Wildlife, are some of the strictest in the nation. The number of rafters is limited daily to protect the environmental quality of the wilderness rivers.
In 1976 the only option was primitive camping with a meal cooked over the open fire. Since 2000, outfitters have invested in excess of 5.5 million dollars in their resort facilities. Outfitters offer modern cabins and cottages with full kitchens, lodge rooms with private baths, suites with in-room Jacuzzis and primitive camping has been upgraded to platform tents with cots and bedding. Resort facilities include full service restaurants, pubs, hot tubs, outdoor pools, saunas, volleyball courts and climbing walls. One outfitter is home to a micro-brewery.
Outfitters offer river trips for youngsters to seniors. A full river trip includes Class III-V rapids, a lower river trip Class II rapids, and a float trip gentle current. No paddling is necessary on a row-frame trip as the guide does all the rowing. Guided outdoor activities include kayaking (inflatable, whitewater and lake), canoeing, hiking, fishing, rock climbing, ropes courses, moose and wildlife watching, bird watching, 12 person canoe trips, ATV tours, pontoon boat trips, paint ball, float plane trips and sky-diving. In the fall and winter, outdoor activities include hunting, snowmobiling, cross country skiing and snow-shoeing. Resorts offer group programs for youth, corporate training, bachelor and bachelorette parties and weddings.
Adventure resort guests range in age from 7 to 75, are split evenly between male and female and include families, empty-nesters and groups. Maine's rafting market is global. Last season, vacationers from the United Kingdom, France Germany, Spain, Israel and Korea rafted Maine's rivers.
Maine's rafting industry has become a vital component of the state's tourism industry. Whitewater rafting is the sixth most requested outdoor activity of those planning trips to Maine, behind day hiking, wildlife photography, fishing, canoeing and sailing and ahead of kayaking, backpacking, bird watching, mountain biking, golf and windjammer trips.
Visitor information about rafting is available through Raft Maine, a trade association of ten professional outfitters, on line at http://www.raftmaine.com. The web site provides profiles of the rivers, rapids classifications, answers to trip planning questions, and a list of outfitters and their activity offerings. The association maintains a one-call reservation service at 800-723-8633.
# # #