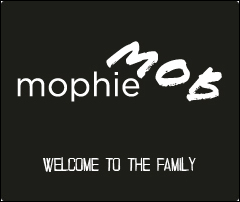 Good people, friends of the cause, future Mophie Mobsters — help us spread the Mophie love
BURLINGTON, VT (PRWEB) April 18, 2006
They have proven that they can make innovative products. Now Mophie is venturing off the beaten track once again. This time it's their marketing techniques that are creating a stir.
This week, Mophie.com featured an announcement reminiscent of Uncle Sam's "I Want You" campaign of earlier this century. "Good people, friends of the cause, future Mophie Mobsters — help us spread the Mophie love," the announcement reads.
The "Mophie Mob" campaign, brainchild of company founder Ben Kaufman, is designed to attract a hardcore fan base for Mophie's products, with the hope that word will spread on a grassroots level from there.
Essentially, a potential Mobster signs up at Mophie.com by supplying some very basic information (e-mail address, location etc.) In return, he/she will receive some valuable perks from the Mophie catalogue, in addition to a company newsletter that will feature even more perks and information about future early product releases. Depending on how early a Mobster answers the call, goodies range from free Relo line accessories to hefty discounts on Mophie.com orders.
The first 200 Mobsters to sign up will be the proud owners of a free Relo Base Case along with limited edition Mophie gear and all the stuff mentioned below.
The first 5,000 that come to the family get a free Relo Base Case.
The first 10,000 members of the Mophie Mob can take 20% off any Mophie.com order.
Every Mophie foot soldier will receive a coupon for 10% percent off at Mophie.com.
The grassroots, internet based campaign is loosely based on the one employed by presidential candidate — and fellow Vermonter — Howard Dean in 2003. "I realized that we were going to need a kind of evangelical—internet—tight—knit family to spread the word about Mophie. Here in Burlington, we experienced first hand how quickly an idea can spread if the Internet and word of mouth are used intelligently," said Kaufman. Mophie is taking it a step further with the generous offerings for their devotees. "We don't look at it as 'giving away free stuff'," Kaufman continued, "I think our products are unique and desirable enough that when people see them they're going to want their own."
Future Mobsters can enlist beginning this week at Mophie.com.
About Mophie
Mophie is a developer of innovative, value-added solutions for the digital lifestyle accessory market The Company was founded in March of 2005 by an 18 year-old optimist with a head full of ideas and a renegade marketing consultant with an arm full of tattoos. Our goal was to create a funky product development firm built around good people and great ideas. For more information visit http://www.mophie.com or contact:
Dan Wilkos
The Wrangler
One Steele St, Studio 118
Burlington VT 05401
617-448-2721
8888mophie
iPod is a registered trademark of Apple Computer, Inc.
# # #