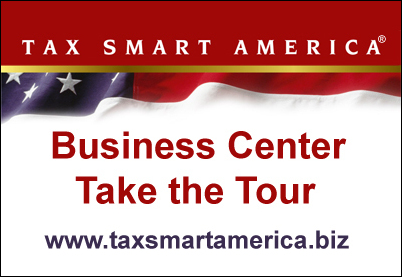 SAN DIEGO, CA (PRWEB) April 17, 2006
Tax Smart America, Inc., today announced it is offering its Tax Smart America® Business Center License Program to tax professionals, with a special incentive plan for tax professionals, CPA's and Enrolled Agents who operate minority owned businesses, or who operate their practice within qualified economic redevelopment zones, as an alternative to the old-style franchise models.
As the company continues its national licensing campaign, it has included an additional incentive program for tax professionals who may be qualified minority businesses or who operate their tax practice within economic redevelopment zones whereby the tax professional may receive additional monetary incentives when becoming an approved Tax Smart Centers of America® Business Center.
The company recently released details about the unique Business Center license program as it continues to promote its nationwide launch. In short, tax-professionals, CPA's and Enrolled Agents who desire to expand their tax practice to include a focus on serving the growing small business market now have a unique model and opportunity to become an approved Tax Smart America® Business Center under a license agreement as an alternative to old-style franchise models.
The minority business incentives provide for a reduced license fee to the tax professional as part of an overall campaign to support economic redevelopment within targeted regions nationwide. The Tax Smart America® Business Center concept is a result of several years of development by the company in creating unique operational models and business methods patent claims with processes that enable a tax professional to provide a full range of business support services beyond that of basic tax preparation.
With the special incentive plan targeting minority businesses, the company sees a great opportunity to assist tax professionals build their practice within this key segment through offering other qualified businesses the opportunity to utilize the Business Center offering a wide range of business support services. As an example of some of the many services offered by an approved Tax Smart America® Business Center, tax professionals will be able to offer entity formation services, entity support services, business plan development, budgeting, bookkeeping and records management for today's small business owner.
The company has created a number of informational support programs offered only at an approved Tax Smart America® Business Center. Clients who use an approved tax professional under the program are invited to attend business support workshops to better understand basic business operations from payroll to recordkeeping. A business client is then free to select from a variety of support services and engage the approved Tax Smart America® specialist to assist in implementing these important services much like a team approach in developing an overall game plan for the business client.
The company recently reported that it has already reached license agreements in Southern California and is responding to requests from tax professionals in 17 other states all within the first few days of its initial launch.
The expansion plans are an effort to provide small and mid-sized CPA and Tax Firms with an alternative to the more traditional expensive old-style franchise systems, such as those of H&R Block (HRB), Jackson-Hewitt (JTX), and Liberty Tax Services. The unique methods have been in development since early 2000 with a series of innovative business systems that will provide independent tax firms with the benefits of a proven successful business program, while at the same time offer an extremely attractive low-cost license fee.
Tax Smart America® released its "Business Center" license program in cooperation with Entrepreneur® magazine with advertising on the popular magazines website. In addition, the company has also implemented numerous efforts to promote its unique models within the tax services industry now targeting minority owned businesses and tax professionals working within qualified economic redevelopment zones. A hallmark of the business model under the brand Tax Smart America® Business Center is to offer a successful business plan and operating system for tax firms that allow for a dynamic year round practice, with an emphasis on providing a wide range of valuable business support services offered to small business owners.
With estimates reported at more than 60,000 to 70,000 new business start ups each month, the company believes its plans are well positioned to attract tax professionals of all types away from competitors who seem to remain fixed on the more traditional franchise and corporate-owned store model, as well as independent tax firms who desire the benefits offered in the business license models. The introduction of the Minority Business Incentive Plan will provide yet another level of support to the continued growth of new businesses especially those within these targeted regions of the nation.
Under a Tax Smart America® Business Center License, the licensee remains free at every level to operate their business in the best manner that suits them. With no weekly or monthly reporting requirements, no strict corporate policies to follow, and with no expensive royalty fees, surcharges, and no large capital franchise fee investment, the business owner truly is Their Own Boss. At the same time they obtain the benefit of a proven business system, national brand name and dynamic marketing system that adds value to their firm.
The company further stated, "We are committed to support economic development at all levels of our operation. We are very happy at the announcement of this incentive plan as we continue to demonstrate our dedication to the growth of small business. We see this program as an exciting opportunity to provide tax professionals with a robust business center within these targeted regions that will allow them to provide year round business support for minority owned businesses. We are confident that once a tax professional sees the tremendous value of these methods, they will never consider a franchise system again", this according to company representative, Daniel Love, who is President of the parent company (SAGE).
The company went on to state that it believes significant change is in the future with such explosive growth in the numbers of new small business start-ups. Under its license model, tax-professionals at all levels, will be able to create a unique competitive advantage over the more traditional seasonal tax preparation services of H&R Block (HRB), Jackson-Hewitt (JTX), and Liberty Tax Services.
In at least two cases where the focus seems to remain fixed on the seasonal and e-filing approach with a combination of franchise owned and corporate owned stores like those of H&R Block (HRB) and Jackson-Hewitt (JTX), the company sees this as an opportunity to create an alternative to independent tax professionals under the Tax Smart America® brand name.
The company maintains an operational test center at its headquarters in San Diego, CA where methods are actually tested, designed and implemented with real clients. However the company was clear to state that it has no plans to open and operate competitive locations to its future licensees.
Tax Smart America®, Tax Smart Centers of America™, Tax Smart University™ and 59-Minute Solutions™, are licensed registered trademarks of (Smart America Group Enterprises). The company offers unique business model and educational systems for tax professionals under a unique license agreement as an alternative to old-style franchising such as that of H&R Block (HRB), Jackson-Hewitt, (JTX), and Liberty Tax.
For more information contact:
Daniel Love, President
http://www.taxsmartamerica.biz
Smart America Group Enterprises Inc.
(858) 614-1831
# # #