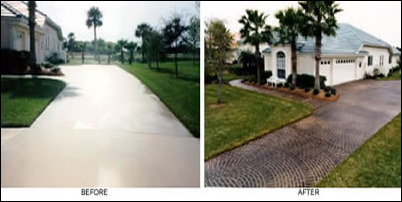 Yucaipa, CA (PRWEB) April 19, 2006
There are many decorative treatments for freshly placed concrete, including pattern stamping, exposed aggregate, and textured finishes. But what about an existing plain-gray concrete driveway, sidewalk, or patio that's in sore need of decorative flair? How do you give it a dramatic and lasting makeover, short of ripping it out and starting over?
One answer is concrete engraving—the use of special tools and equipment to cut patterns and designs into existing concrete. Unlike toppings or overlays, engraving is a permanent treatment that won't wear away or lose bond because the patterns are carved into the concrete rather than applied on top of it. When the concrete is further enhanced by staining, the decorative possibilities are truly spectacular. View an image of an engraved concrete driveway.
Both existing or new concrete can be engraved. The process begins by staining the concrete in the desired color of choice, and then engraving (routing) out a pattern. The routed area is now uncolored- thus it looks like a grout line. Patterns can be custom-designed or routed via a variety of stencils. Patented engraving machines and tools can create stunning visual effects with symmetrical arcs and angles. Popular patterns include circular brick, tile, ashlar, flagstone, cobblestone, and linear brick. View an image a stained and engraved concrete floor.
Homeowners, builders, designers and architects interested in locating a concrete contractor specializing in engraved concrete can utilize The Concrete Network's Find-A-Contractor directory. The directory provides visitors with a list of decorative concrete contractors throughout the U.S. and Canada. The service is fully searchable by 22 types of decorative concrete work and 198 metropolitan areas throughout North America.
Established in 1999, The Concrete Network's purpose is to educate consumers, builders, and contractors on popular decorative techniques and applications including stamped concrete, stained concrete floors, concrete countertops, polished concrete, and much more. The site excels at connecting buyers with local contractors in their area.
For more information, please visit http://www.concretenetwork.com.
Photos courtesy of Engrave-A-Crete.
###