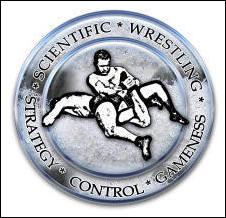 I've promised not to reveal how many spots for this clinic are left
Los Angeles, CA (PRWEB) April 17, 2006
Scientific Wrestling proudly announces the 'Dominating the Mat' Clinic. Everyone, from ambitious beginner to seasoned competitor, is invited to apply for this seminar which will take place in Santa Monica July 22nd and 23rd. All participants will receive two days of the best grappling training with instructors Mark Schultz and Wade Schalles, plus special bonus items available to participants only.
Champions Wade and Mark will share the strategies and techniques they've used to rule the Resilite, the very same methods they have used to rocket to the pinnacle of human achievement.
Mark Schultz's accomplishments in combat sports are amazing: he is an Olympic Gold Medalist in Freestyle Wrestling, a World Champion Wrestler, multiple NCAA champion, and even a UFC Winner.
Wade Schalles has dominated not just wrestling, but many other grappling sports as well. Wade is a NCAA Judo All-American, a 9th Degree Black Belt and a multi-time champion in Sombo, and holds the Guinness Book's World Record for All-Time Leader in Wrestling Victories too.
Make no mistake, this weekend clinic could quite possibly be the most training for grappling success that you'll ever receive. It doesn't matter if you've experienced devastating failure as a competitor or a coach. The 2006 Scientific wrestling 'Dominating The Mat' Clinic aim is to transform your grappling game into a success (even if your game is already at a high point, these men will open up your eyes to hidden techniques and other winning, little known grappling strategies).
This is your chance to benefit from these men's kinetic genius, together in one convenient weekend session. However you must act quickly because there are only a limited number of spaces left. After they're gone, spaces at the 2006 Scientific Wrestling 'Dominating The Mat' Clinic will no longer be available to anyone, for any price
"I've promised not to reveal how many spots for this clinic are left," says Jake Shannon, founder of Scientific Wrestling. "I can tell you that once the first ten spots are filled, the price will go up by $167. After those ten are gone, the price will go up another $94. I am capping participation to 35 wrestlers/coaches. I suspect it will sell out long before July 22nd."
Participants who meet the registration deadlines will receive three premium bonuses: a limited edition Scientific Wrestling 'Dominating The Mat' event rashguard by Underhook, invitation to an exclusive dinner honoring Wade and Mark, a DVD with seminar footage, and an exclusive signed poster.
About Us
Scientific Wrestling, a subsidiary of Lion's Share Ventures, LLC, is a three-year-old Los Angeles-based organization that has been quietly organizing a grass-roots movement to bring Western-style submission grappling back to the same prominence and respect it enjoyed during the early days of the 20th century in the United States.
Scientific Wrestling has exclusive agreements with some of the all-time greatest grapplers in modern history including Wade Schalles (Olympian and Guinness World Record Holder for Most Wins in Wrestling), Yoshiaki Fujiwara (legendary submission grappling master), Mark Schultz (Olympic Gold Medalist and Ultimate Fighting Championships winner), Karl Gotch ("God of Wrestling" and Olympian), and Josh Barnett (current King of Pancrase and youngest UFC Heavyweight Champion ever).
Founded by Catch-As-Catch-Can Wrestling practioner and author Jake Shannon, the Scientific Wrestling Research Group has unearthed the true lessons handed down from the champions and masters of this great sport. Not only have the champions and authorities themselves been given a voice but also their methods have been given the spotlight once again.
Contact:
Jake Shannon
http://www.ScientificWrestling.com
(310) 228-7175
###