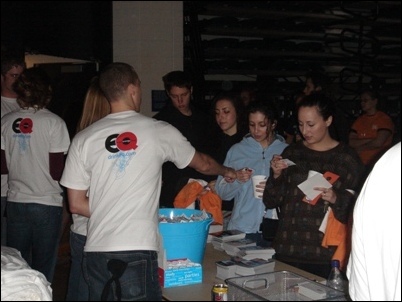 Bethesda, MD (PRWEB) April 18, 2006
In a recent survey conducted by EQ the Smart Energy Drink (http://www.drinkeq.com), over 450 college-age students were polled on their usage and opinions of energy drinks. Surprisingly, most students found the biggest benefit of EQ to be its ability to help them while studying. A lesser percentage was focused on its use for partying. While many of today's energy drinks only focus on the darker, sexier, more rebellious image that most consumers associate with partying EQ has created a great new use for their energy tablet and that is one of the never ending quest for excellent grades that keep students so driven. With the addition of memory-enhancing Ginkgo Biloba to its energy blend, EQ caters to the needs of today's college student with a healthy and refreshing approach. Not only does EQ's caffeine blend help combat the heavy eyelids that strain over this semester's notes, but with the help of Gingko Biloba, students could actually absorb and retain the information better. Gingko Biloba has been recognized for its positive effect on brain functioning by promoting mental alertness and reducing mental fatigue.
39% of survey respondents attached most to EQ's benefit toward studying, versus 31% who saw the immediate benefit in partying and pre-gaming. Coming up third was EQ's ability to relieve the symptoms of hangovers, a benefit that resonated with roughly 26% of respondents. In-line with today's fast-paced society, it appears that the college-age crowd is an efficient bunch. They want to make the most of their time studying, be awake enough to go out all night, and not have the effects of their overindulgence dragging them down the next day. Not surprisingly, 48% of respondents claimed that they used energy drinks most during the nighttime, a time frame that coincides with both late night studying and late night partying.
Over the years, more than 300 studies have attributed a long list of benefits to Gingko Biloba. This leaf extract has been used medicinally for thousands of years and is currently one of the top-selling herbs in the United States. By increasing blood flow to the brain, Gingko Biloba improves circulation of the blood, nutrients and oxygen to vital organ systems and is even used in the early-stage treatment of Alzheimer's disease. This enhanced circulation could improve short and long-term memory, reaction time and mental clarity. Clearly, these are all benefits a student could find helpful while cramming for the next exam and on the exam results. Some studies show that in addition to classroom time, universities recommend two hours of study time for each hour in the classroom. As such, studying alone could occupy a large amount of a college student's schedule. And great grades would be an excellent reason for a party (time for more EQ).
EQ recently made its debut to college students at George Washington University's Spring Fling event. Other sponsors included Apple Computer®, Napster®, Subaru® and DCSnacks®. EQ also took this opportunity to publicly announce its involvement with DCSnacks, one of the area's most bustling delivery services. DCSnacks is currently selling tubes of six EQ (the equivalent of six 8 ounce energy drinks for a fraction of the cost) on its website (http://www.dcsnacks.com) and including free samples to its customers in outgoing orders to promote this unique and innovative product to its customers. DCSnacks is the brainchild of a student with entrepreneurial dreams, DCSnacks currently offers over 800 different quality items from microwave popcorn and DVD's to Advil® and gum, that can all be bike-delivered to local doorsteps around the campus and into downtown Washington DC. Through serving hundreds of customers a night, the company's estimated sales are between $1 million and $2.4 million. EQ and DCSnacks plan to do several promotions together in the area to promote brand awareness and bolster sales- two goals that both companies are eager to pursue.
EQ is no stranger to promotions. The company has been sponsored parties at Super Bowl XL, Olympus Fashion Week and announced its primary sponsorship of NASCAR Truck Series driver Chase Montgomery at the Atlanta Motor Speedway's John Deere 200. Locally, EQ has popped up at Washington Nationals baseball games, the NCAA tournament at the Verizon Center and most recently, the Billy Joel concert.
For more information, please visit http://www.drinkeq.com or contact Teresa Chen at 800.884.5771, extension 234.
# # #