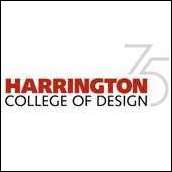 Communication design is a logical extension of Harrington's current interior design and digital photography programs
Chicago, IL (PRWEB) April 18, 2006
Harrington College of Design announced today that it will introduce Chicago's first bachelor of fine arts degree in communication design starting in the fall of 2006. The new program, based on a total information design model, is designed to prepare students to promote, clarify, inform, guide and empower through various media.
"Our objective is to help students develop and master conceptual skills that separate creative leaders from technicians," says David Dunworth, department chair of foundations and critical studies at Harrington. "The innovative and progressive program differs from existing graphic design and advertising programs by mirroring the interdisciplinary nature of the field."
Prospective students and design professionals are invited to an open house on the communication design program on Saturday, June 3rd from 11 a.m. to 3 p.m. at the college.
"Communication design is a logical extension of Harrington's current interior design and digital photography programs," says Erik Parks, president of Harrington. "We want to leverage our reputation for cutting-edge design curricula by extending it with related disciplines."
By integrating Communication Design with Harrington's existing programs in a collaborative design process, graduates will emerge with both conceptual and critical-thinking skill sets to strategically communicate the total message. Students will get a chance to "art-direct" projects and understand the team approach to design using words, images, and the application of two-, three- and four-dimensional platforms.
The 130-credit course study combines 94 credits of core requirements and 36 credits of liberal arts and sciences. Courses include:
Typography: An introduction to the concrete and conceptual aspects of typography as a visual medium.
Design Layout: An introductory class aimed at preparing students with fundamental skills necessary to develop visual communication projects.
Time-Based Design: This course will teach graphic design students to simultaneously organize and structure complex visual, audio and tactile data into still- and time-based design.
Package Design: A thorough study and application of the elements and principles of package design, emphasizing compositional organization, mechanics and effective presentation.
Design Issues: Intended to provide students with an understanding of the places, people, events and technological innovations that have influenced the development of graphic design.
Logos and Corporate Identity: This course incorporates skills and knowledge gained in prerequisite visual communication skills courses.
Storyboarding: In preparation for advanced coursework that requires large scale, multidisciplinary solutions for visual communication, students will learn the art of storyboarding and art direction.
Web Process: The common issues of web process, ethics in business and the Internet are explored in this lecture course.
"The Communication Design Program strives to create a socially and globally aware designer," says Dunworth. "We believe the program will help our graduates stand out in a competitive job market."
About Harrington College of Design
Located at 200 W. Madison St., Harrington College of Design is a four-year college that offers flexible scheduling for a bachelor of fine arts degree in interior design, an associate of applied science degree in interior design or digital photography and a new bachelor of fine arts in communication design.
Harrington seeks to foster an environment that maximizes students' intellectual and artistic potential. The majority of its faculty are practicing interior designers, architects, photographers and fine art professionals. The bachelor of fine arts in interior design program is accredited by the Council for Interior Design Accreditation formerly known as Foundation for Interior Designer Education Research (FIDER). Harrington is also recognized as a private college by the Illinois Board of Higher Education and is an accredited institutional member of NASAD. Accredited Member, ACICS. For more information, call 312.939.4975 or visit http://www.interiordesign.edu.
###